"My life took a dramatic turn – on Paradise Lane of all places. This road is the last road my husband would drive and the first place I would have to face a new life. A life I did not choose, one I did not want, one that brought unimaginable pain, sadness, and fear. More emotional, physical, and mental turmoil than one human should not have to bear.
What happened at Paradise Lane? It is quite the story. It all started with a pregnant woman, an episode of a sappy TV show and a man dancing in a child's birthday party hat. This is how my day started, one very unseasonably warm Minnesota day in November – the Saturday after Thanksgiving. One would never guess that by the end of the day I would find myself returning back to this same room where laughter and joy once filled the space, to now a room filled with immense anxiety, uncontrollable pacing, and pure and utter heartache.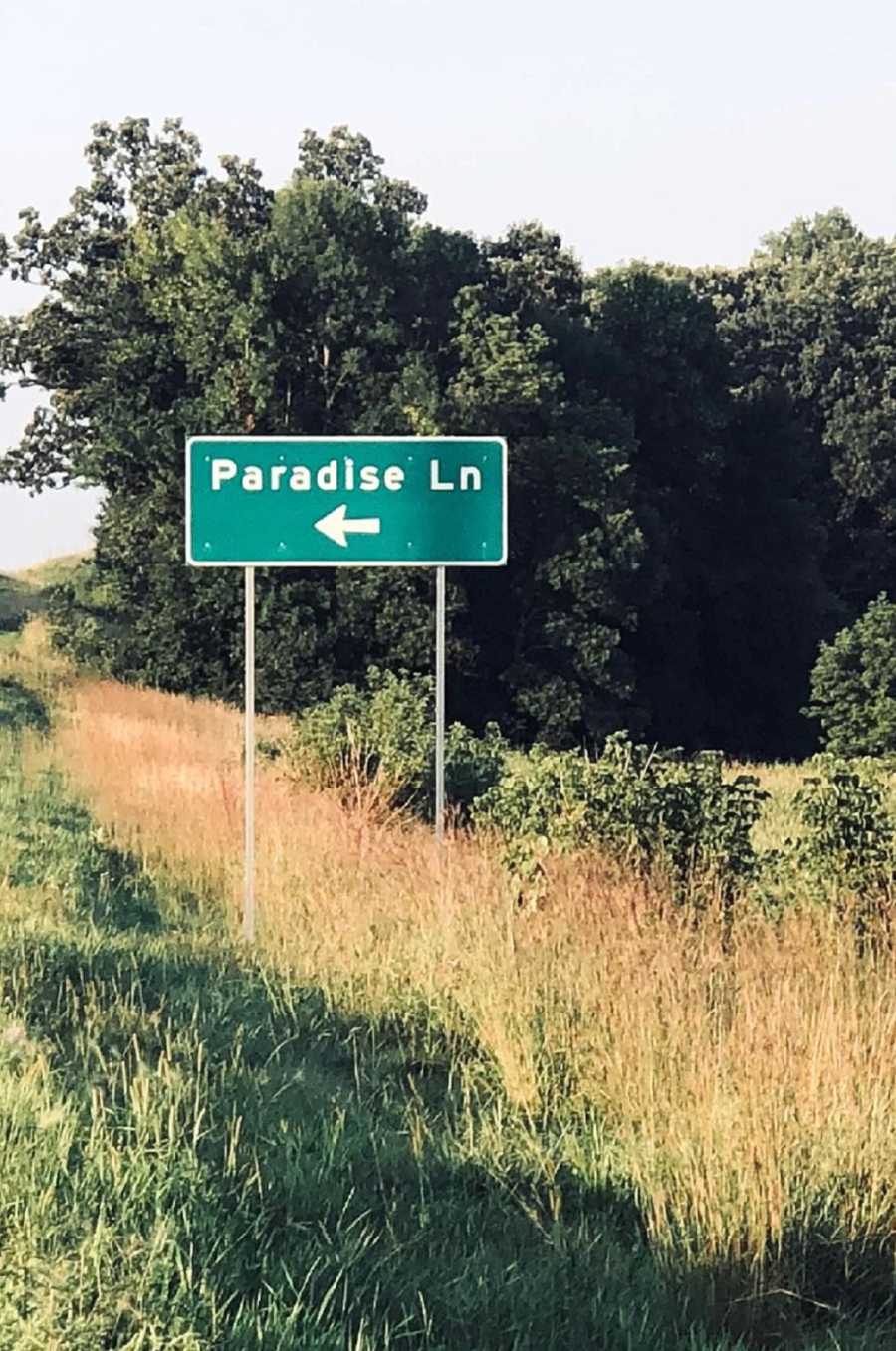 You see Andy was a man of great interest and hobby – and it drove me crazy. Ever since I met the man, he had this quirky trait that continued the entire 10 years we were married – from learning to play the harmonica, marathon running, ordering designer shoes online, beer making, origami, gardening, growing loofah's, conquering the rubix cube – literally you name it he tried it. His current hobby was photography and paddle boarding, which he loved to do on our beautiful lake in the small town we lived. So that day in November, he decided to venture out on the lake one final time before winter set in.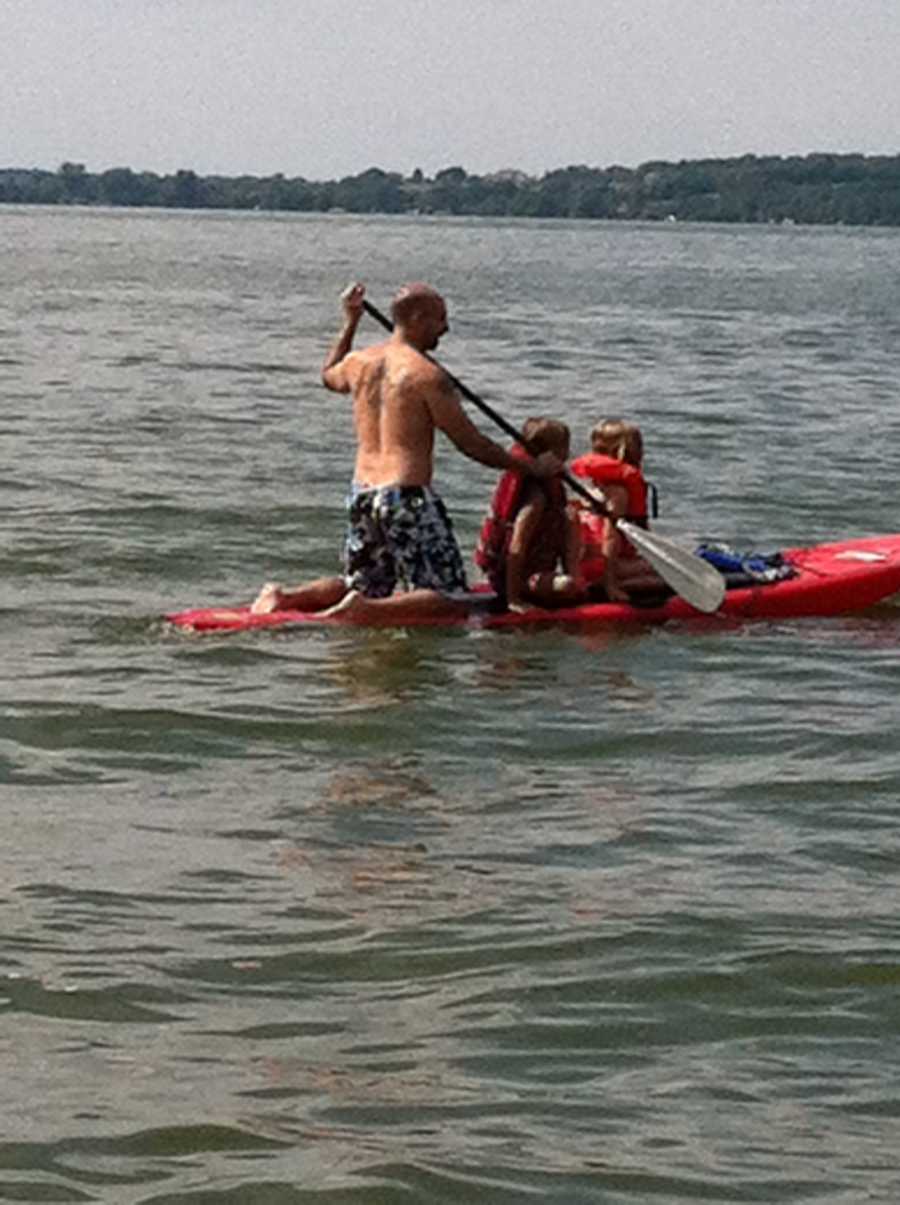 I was pregnant with our third child at the time, and my hormones had gotten the best of me that morning, as I sobbed watching the above-mentioned sappy TV show. He always loved to make me laugh and smile. He was the funniest man I had ever met. I'm pretty sure he married me to have a permanent audience to all of his jokes. It worked – I always laughed with, at, and about him. So of course, my last memory of him is dancing in a child's party hat that my 6-year-old son had received from a recent birthday he attended. His dance was a success; I chuckled and rolled my eyes as he danced across the room, trying his best to make me smile before he left. In fact, this was the last memory I have of my dear Andy. I wouldn't change it for the world. This is who he was and this was who we were – always laughing, always teasing, but most importantly, always sharing our love for one another.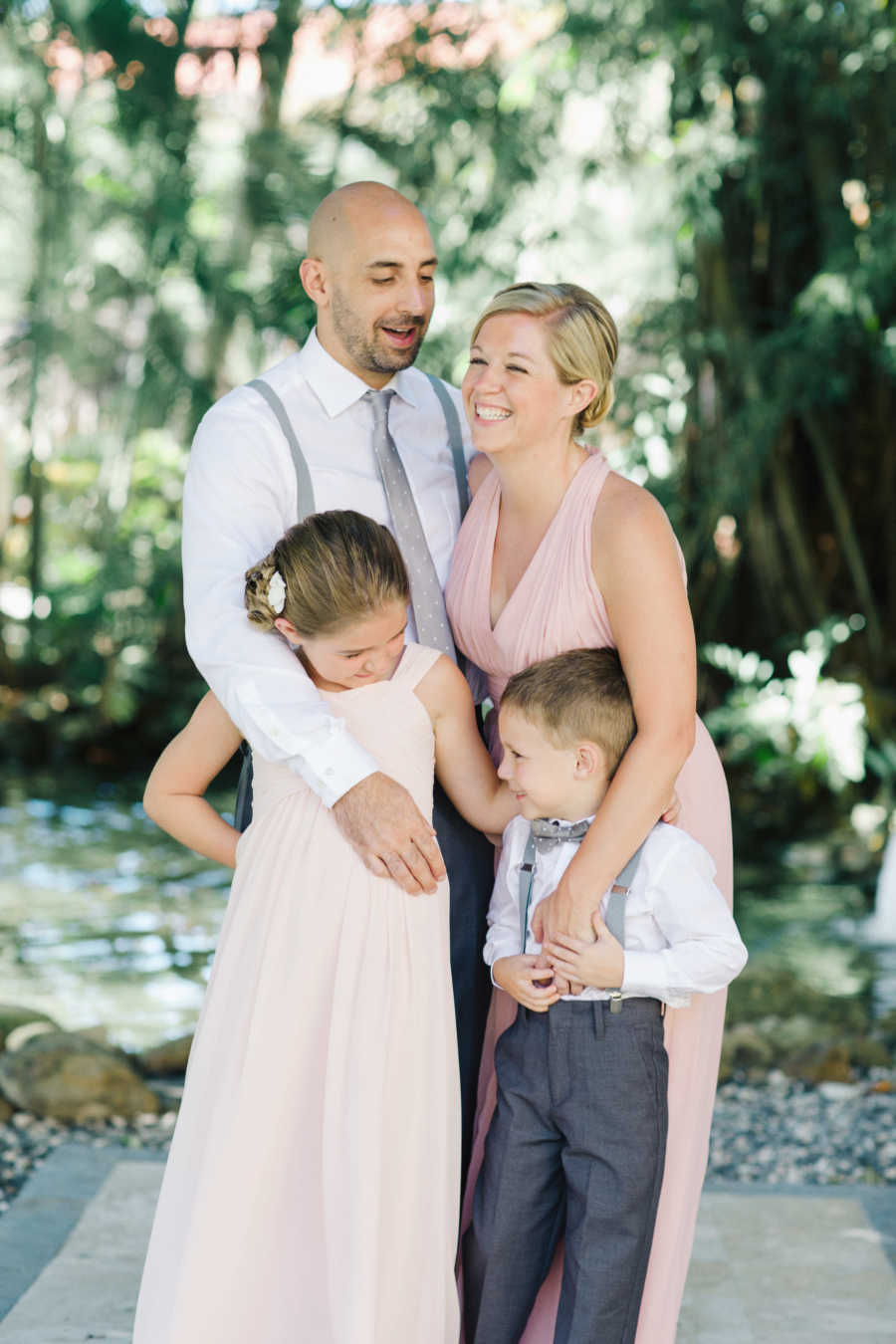 Hours began to pass since he left earlier that morning. We had plans with friends later that day with our children (9 and 6 years old at the time). So as time went by and still no Andy, I decided to call him. I picked up my phone and called Andy – no answer. At the time I wasn't worried. A half an hour later I tried calling again. Still no answer. Not worried yet. Eventually, the ringing stopped and the calls started going directly to voicemail. It was very unlike him to not answer, and for his phone to now be dead. It was around 1:30 and I started to worry. I told myself at 2:00 if he was not home, I was going to drive over to the lake and see what was taking him so long. 2:00 came and went.
2:45, anxiety started to go in overdrive. It was not like Andy to be gone for so long, to not answer his phone, especially when we had plans later in the day. 3:00 came. No Andy. I threw on one of Andy's jackets and told my daughter to watch her brother. I tried my best to be as calm as possible for my children. They didn't suspect anything was wrong. I tried to push my anxieties out of my head, but I was shaking and crying as I drove to the lake.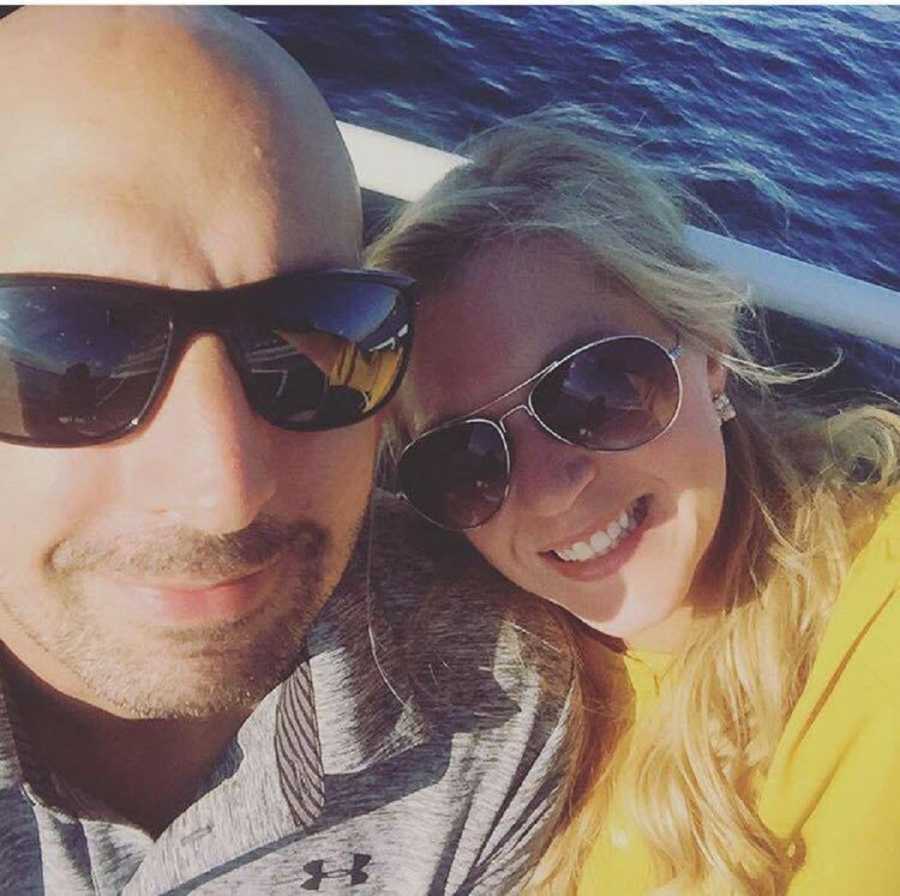 I made a left turn onto Paradise Lane which was the road that lead to our local beach access. I pulled up and saw our car. The car we bought together earlier in the year to prepare for our new baby boy. Then it was as if my worst nightmare, the worst moment, had now become a reality. I pulled past the parking lot and my husband's car and drove on the little gravel road that was adjacent to the lake. And I saw it. The paddleboard, far from shore… empty.
"这不是真实的,这不是真实的,"我的脑海一直在我的脑海中重复,并试图处理下一步要做什么。'如果我打9-1-1,安迪会对我很生气。他可能在某个地方拍照的地方。'在同一时刻,时间静止不动。我抓住了电话,打电话给9-1-1。当我疯狂地看着被树木,灌木和倒下的叶子覆盖的海岸线上时,我开始尖叫他的名字" Andy,Andy,Andy"。我听到警笛声在我的方向上咆哮。感觉就像是电影的制作,除了我是新恐怖表演的主角,这是我的生活。
As I paced and waited for help to arrive on the scene, I began making phone calls. First to my neighbor, and asked her to get the kids. I don't know exactly what I said but something to the effect of: 'Andy is missing… and the kids, can you get the kids?' She had her husband get my children and she fled to my aid. When I saw her, we hugged and cried. Later she told me all she could hear me repeating over and over is 'I don't want to live without him, I want to die, I want to die' as I knelt in the grass opposite of the shore.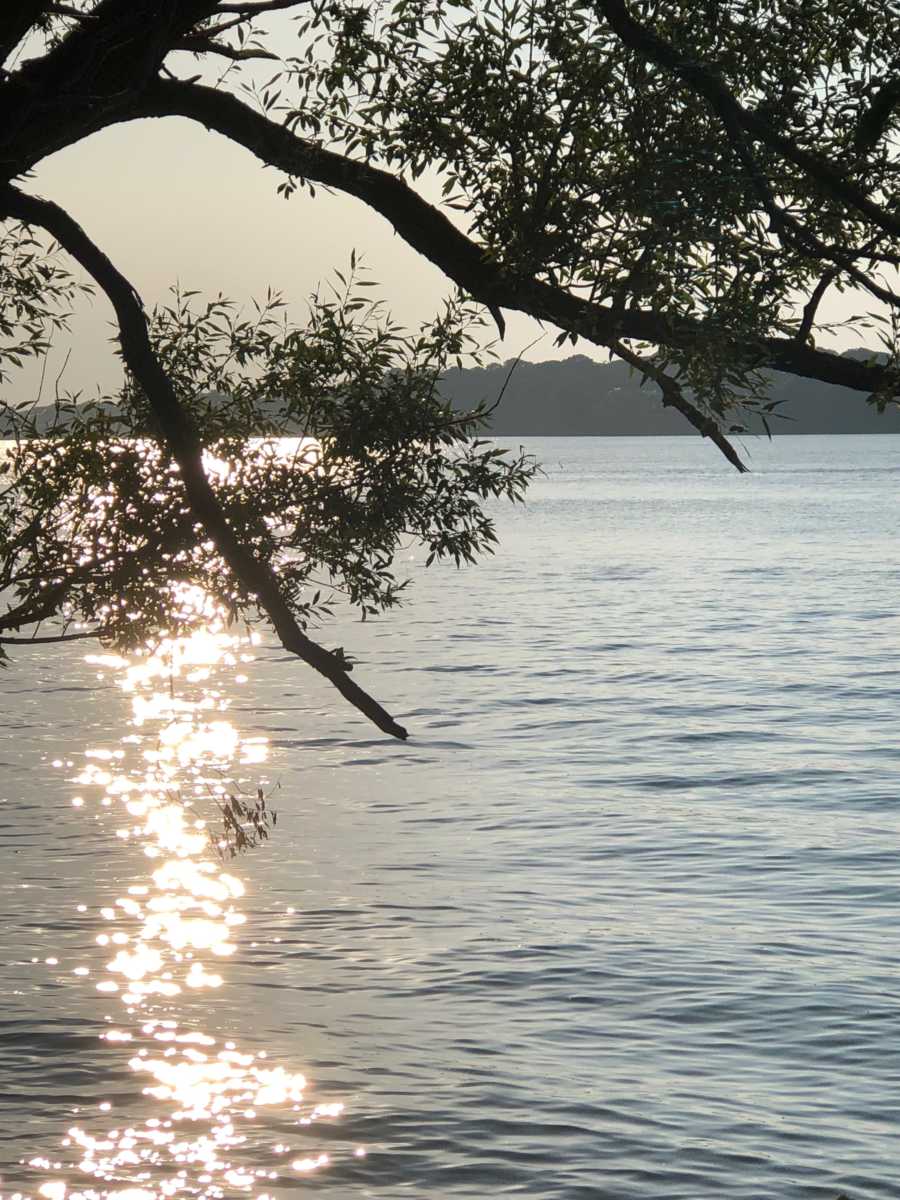 Police and ambulance began to arrive and start the process of trying to find Andy. Much of what happened that night was a blur, a lapse of time that I don't think my body and mind can handle to remember. I do know that as my neighbor and I stood there in the cold, with noises of sirens in the background and pure terror on our faces, an ambulance driver approached us. He asked us to pray with him. We huddled together and began the words of 'The Lord's Prayer' and for that moment, I felt peace.
By the lake, there was an event center that was used to host weddings and different celebrations. I can imagine all the happy times and memories this place held, but to me it will forever be a holding a cell, a place I never want to return, a place where I spent countless hours praying, sobbing, and screaming at God to please find my husband. We were allowed to use this event center to warm up and were quickly ushered inside after the owner arrived. By this time family had arrived and the waiting began. I remember officers telling me that if he is in the water, they will find him quickly. By this time, they had already found my Andy's keys, camera, and phone on the bottom of the lake directly under the board. But no Andy. This gave me such hope. If he did drown, he would be there with the keys, camera and phone. This means he was on the land.
当然,他是在陆地上。他是在这样良好的沙pe and always had been. He was a veteran who was training for an Ironman. If anyone could swim to shore – it was Andy. The water was eerily calm. There was not a current, the water was so still it looked like glass, so there was a confidence which was followed by confusion as the night dragged on, with no Andy. If he was in the water, they should be able to find him. Where was he? As disgusting as this is to say: conditions were perfect for finding a body, 'my' husband's body.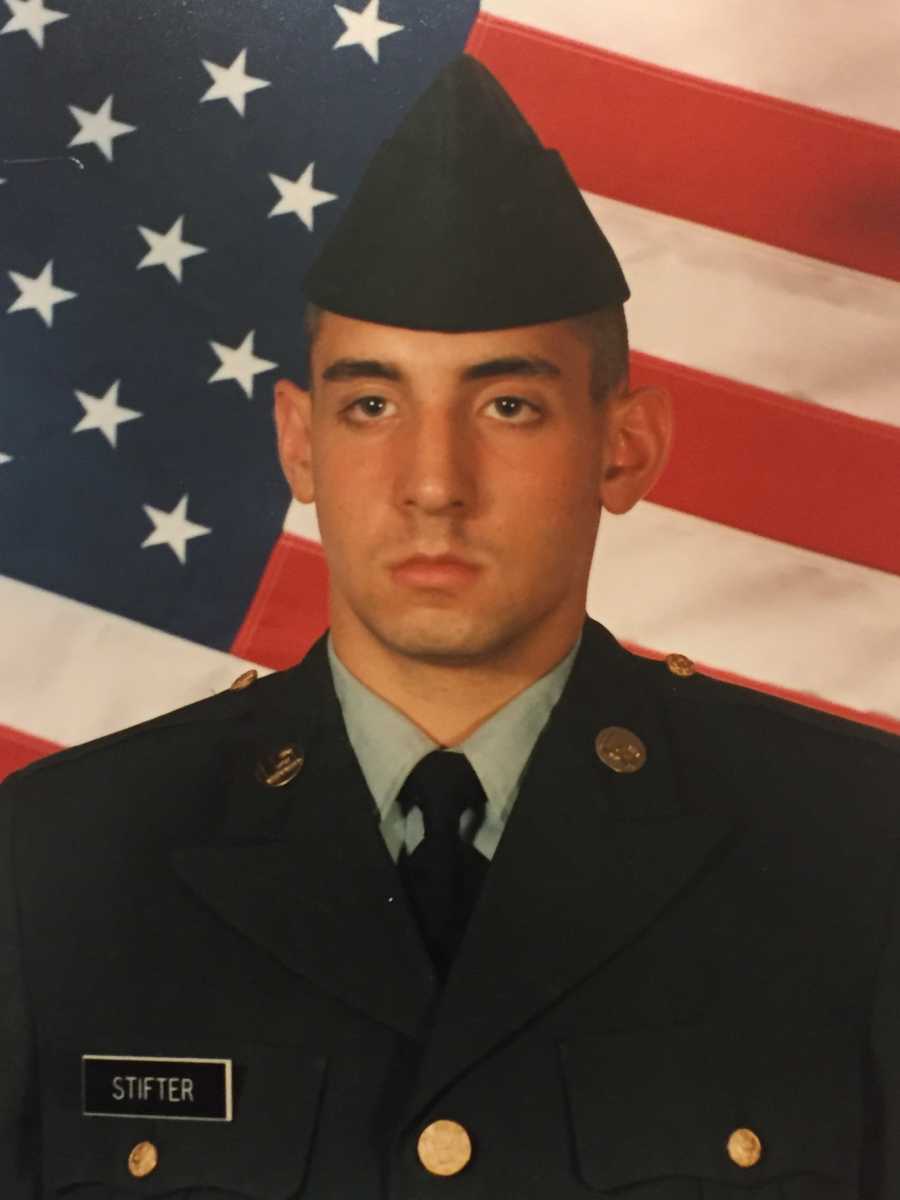 无数的救援队,包括救援犬,都在船上搜寻陆地和水。最终,团队被送回家。越来越冷,军官和救援队很累。我们被告知我们也应该回家,尝试休息一下。'休息,休息!?我丈夫在那里!天气很冷,他现在可能快要死了,我必须回家休息吗?我们为什么要停下来?我应该看!这对我来说是不可思议的,但是最终我被说服回家,第二天早上搜寻将继续。 I couldn't just think of me but I was also 17 weeks pregnant, I had to try to rest my body. Andy wasn't found that night. 3 weeks and 4 days to be exact. That is how long the waiting lasted.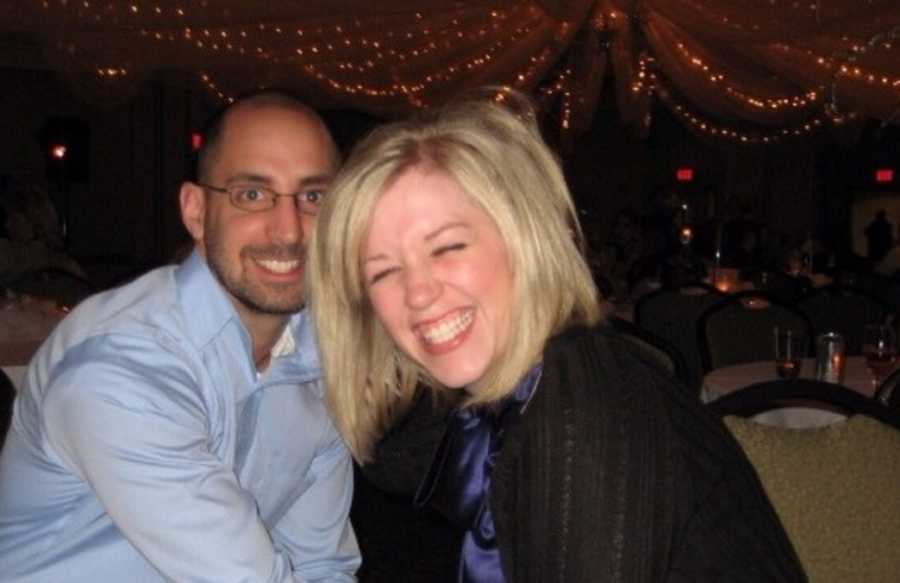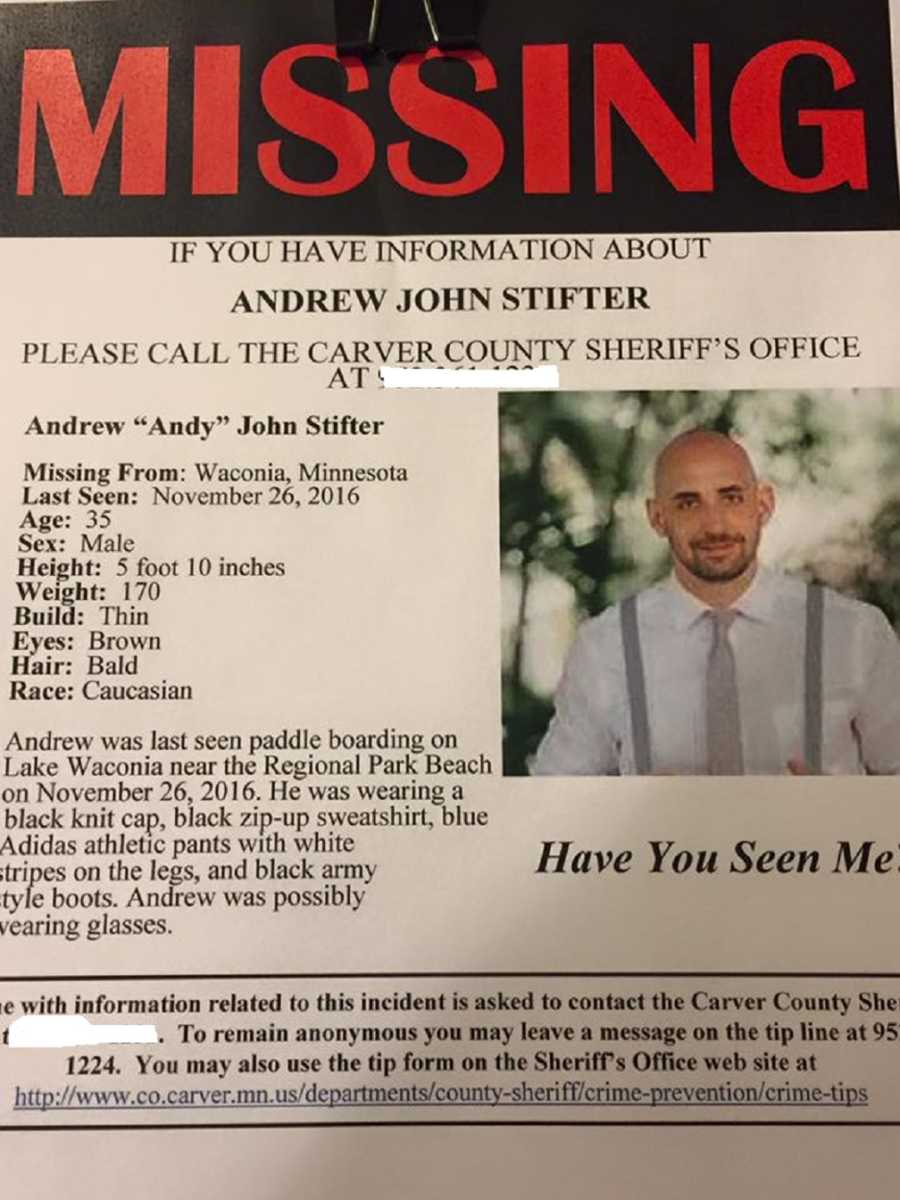 起初,湖和事件中心,嗡嗡作响ith activity. Search teams, divers, dogs, drones, volunteers, anything you could think of – they were there helping. But as the days progressed, so did the cold weather. Eventually, the lake froze. I could not sit at the event center each day anymore. I was sent home to sit, day in and day out, waiting for news. With the closure of each day – no news. Panic had already set in, but now a new terror had taken its place – the reality and thought of not finding him. Thoughts of not having closure and having to wait until spring to begin the process of searching again. It was both frightening and sickening to have to imagine my life alone without Andy, but now without even being able to put him to rest.
On December 20, 2016, a man went ice fishing. This man drilled his hole, dropped his camera, and it landed on my husband's foot. This fisherman did aid in the search and knew the lake better than anyone, but was not searching for Andy that night. This fisherman found my Andy when countless volunteers and experts could not. To me, this was nothing but divine intervention.
从冷冻湖中检索身体的恢复并不迅速发生。随着时间的流逝,家庭开始到达,我知道这将是一个漫长的夜晚。我本来不得不和我的婴儿交谈。我本来必须告诉他们他们的爸爸,他们的床罩,摔跤伴侣已经死了。他们知道他们的爸爸失踪了,很有可能他不会回来,但是就像我一样,他们希望他还活着。我不确定我是怎么告诉他们的,我的思想压抑了那个痛苦的时刻。当他们学会这个消息时,有很多泪水和痛苦的呼喊。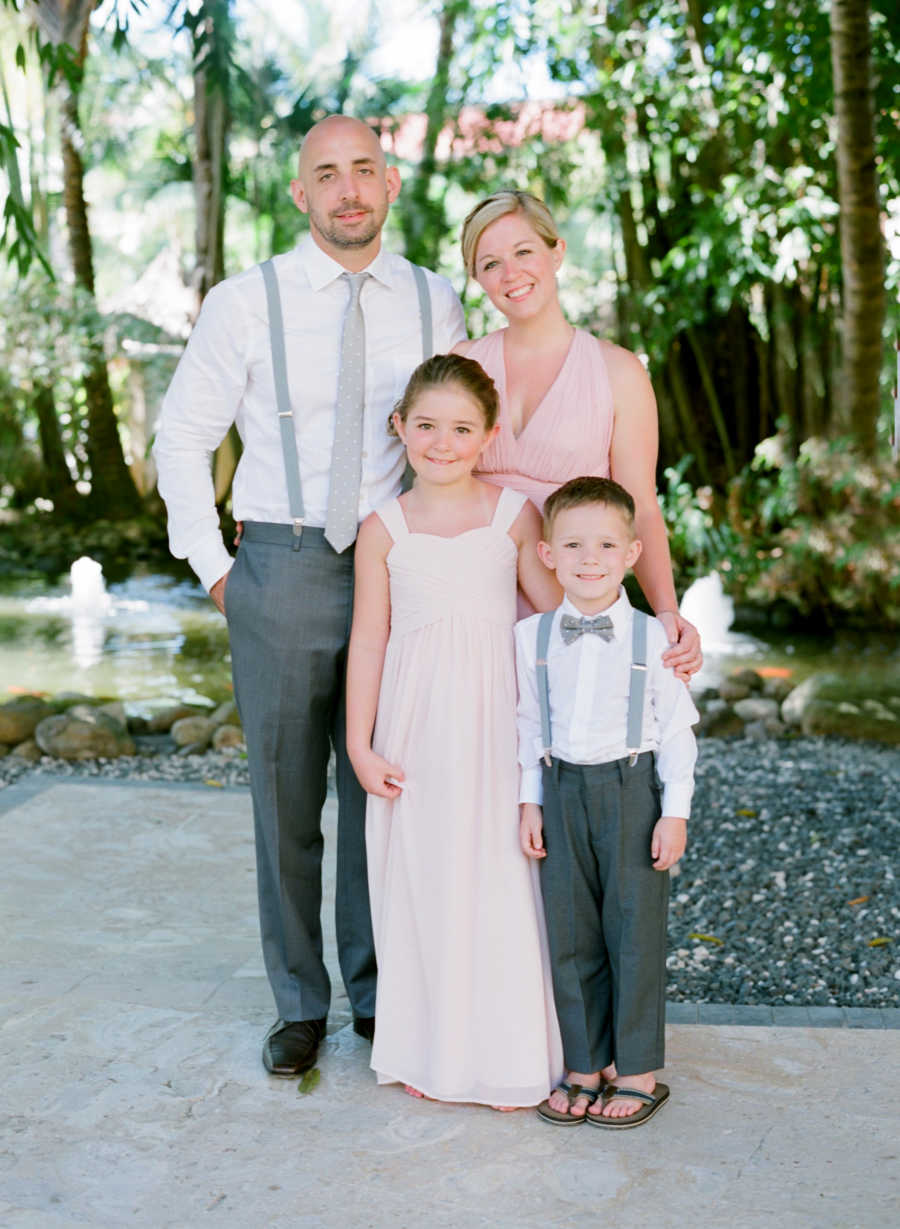 For reasons beyond my understanding, this is where my husband's life would stop. We will never know exactly what happened – because he died alone. One could speculate hypothermia because the weather was deceivingly warm but the water wasn't. We do know he drowned, but we will never know how or why. What I do know is the pain is raw, heartrending. It was then and will follow me throughout my lifetime.
The finding of his body resulted in a funeral, which happened a day after Christmas. We were able to have an open casket. The cold water preserved his body. The viewing of this missing man was necessary for everyone. My community had rallied around us. Finally, seeing the person they were looking for after such a long-awaited search. Finding him was both bitter and sweet relief. I finally had him back. I finally knew where he was. I could touch, kiss and talk with him again. But the conversation would only be one-sided from here on out.
心痛的强度是真实的,但这不是我选择停止的地方。2017年4月29日,我和安迪欢迎我们的第三个孩子。尽管安迪在身体上不在那儿,但他在那里。当我们的男婴Sullivan" Sully" Andrew进入世界时,我们都感到他的存在。他为我们的家庭带来了如此多的康复,爱和新生活。他永远不会见到他的尘世爸爸,但我希望他会感受到我们所有人的爸爸的爱以及与他分享的故事。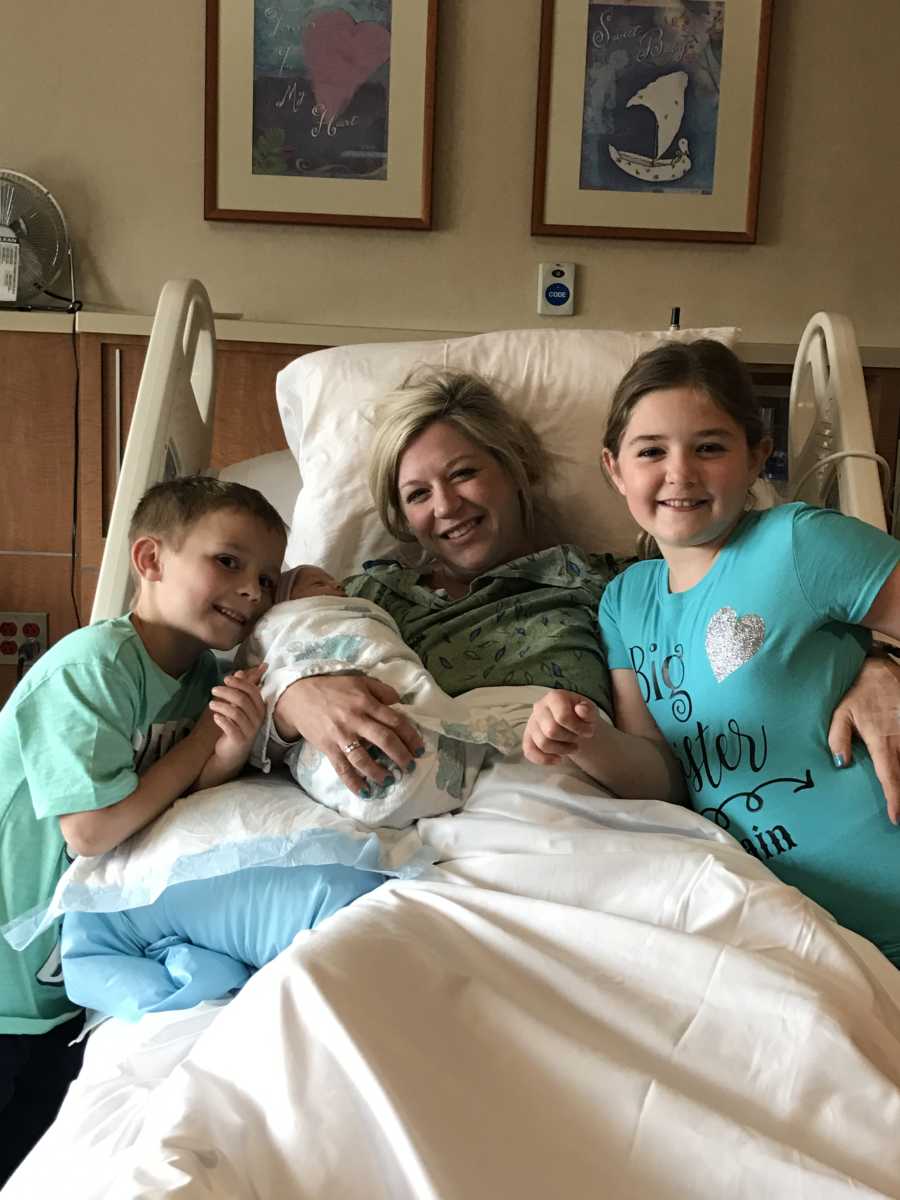 We miss our Andy, daddy, son, and friend every day. There is no denying his death was very tragic and has caused great emotion, sadness, heartbreak and so much more (it's actually hard to put words to the feelings) but my life will continue to move forward. I will cherish all the wonderful moments and memories my late husband and I created. Meeting Andy, having 3 wonderful children and constantly laughing will never fade from my heart.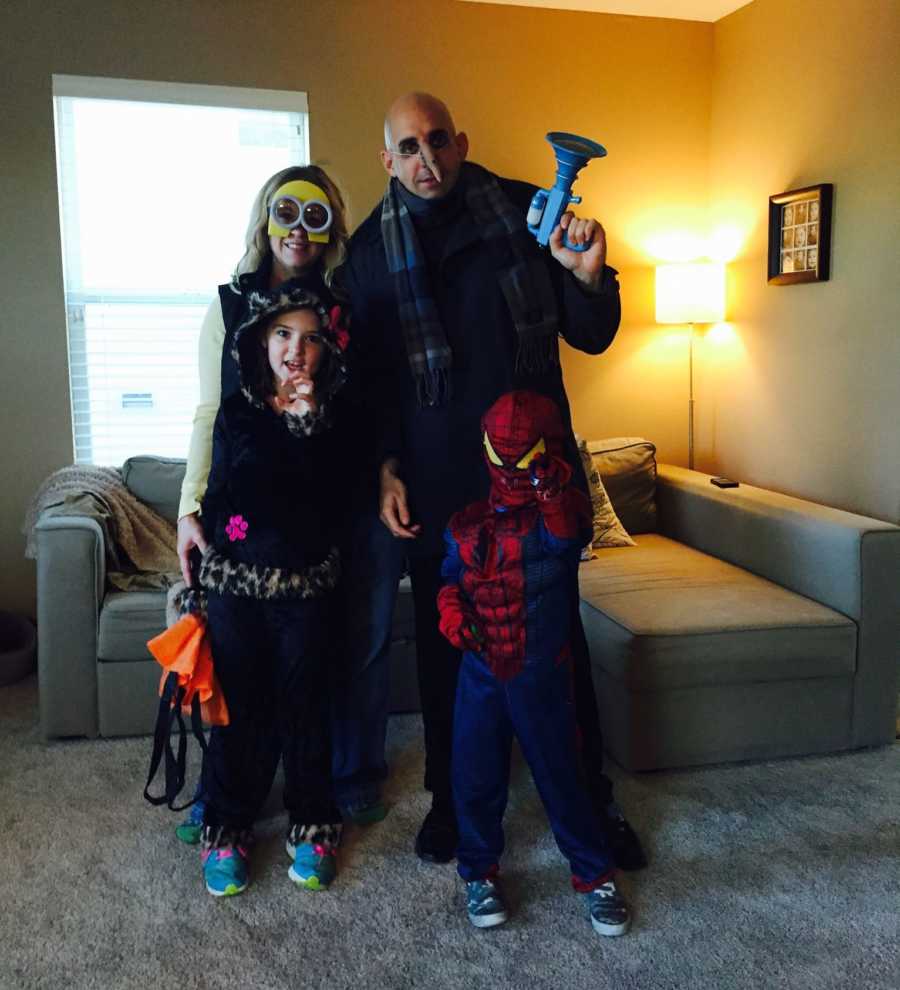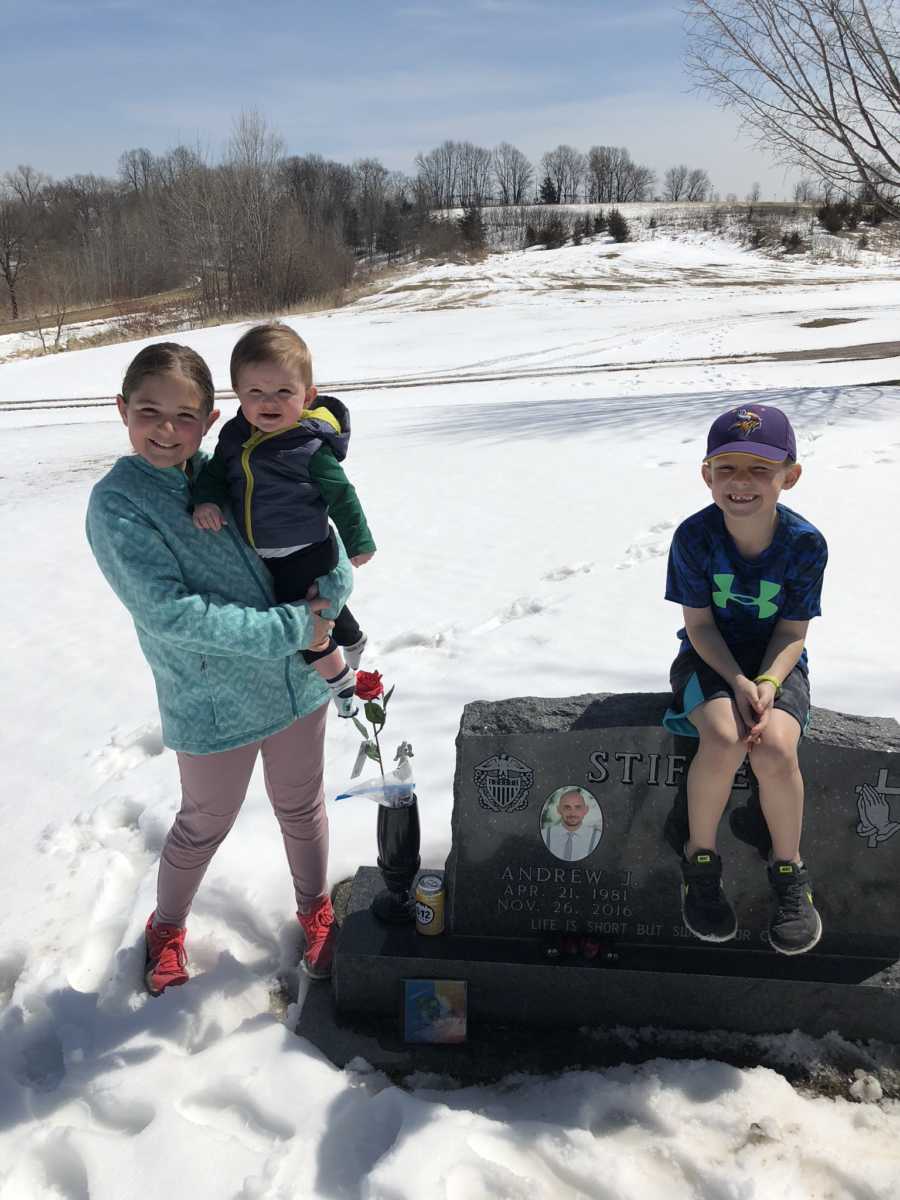 话虽如此,我的一生没有结束安迪的一天。我将有更多的悲剧,悲伤,损失 - 这是不可避免的。更重要的是,我将再次拥有爱,幸福,笑声,成就和希望。我的心会治愈,但失去和爱的疤痕将仍然存在。
I am in no way an expert at grief and will never claim to be, but through my experience and journey through loss, my hope is: whatever tragedy you are experiencing or have experienced, know that life can move forward, life can still have laughter, joy and most importantly, happiness! I will spend each day trying to find it – because those are all the things that he brought to me and I owe it to him and myself to have a生活继续!"
这个故事提交给beplay网络一直不畅明尼苏达州Waconia的Katie Stifter。你可以跟随她的悲伤之旅Facebook,,,,Instagramand herwebsite。凯蒂(Katie)有一本关于她的完整故事的书,该故事将于2019年夏季发行。你有类似的经历吗?我们想听听您的重要旅程。提交自己的故事here,,,,and subscribe to our best stories in our free newsletterhere。
阅读来自寡妇的更多鼓舞人心,有力的故事:
'很多人伸出援手,我失去了数字。但这使我冷漠。我注意到的不是信息本身,而是附上的名字。'

与他的身体满是空的ors, he kept working': Wife's tremendous grief after husband's cancer diagnosis
Please分享this story on Facebook to encourage others to cherish every moment and love what matters most.