"Growing up, all I wanted to become was a mother. But the journey for me to get there was different than most.
I had fallen in love with a girl named Keri, she happened to be my neighbor and friend, but later would become so much more. We were married in September 2015, just three months after the US Supreme Court legalized gay marriage in all 50 states.
We were so excited to start our family, so to the fertility doctor we went. I was so ready; my dreams of becoming a mother were about to come true. Or so I thought. It was a long road – three IUI's, a round ofIVFwith two failed implantations, then another round of IVF with one implantation and SUCCESS. We were blessed with our firstborn, a daughter named Chloe. I quit my advertising job the day before I was supposed to return to work and became a stay-at-home mother. I just could not bear the thought of leaving her. In fact, I was the one having separation anxiety, not Chloe. Chloe became our world, and we wanted to give her the world in return.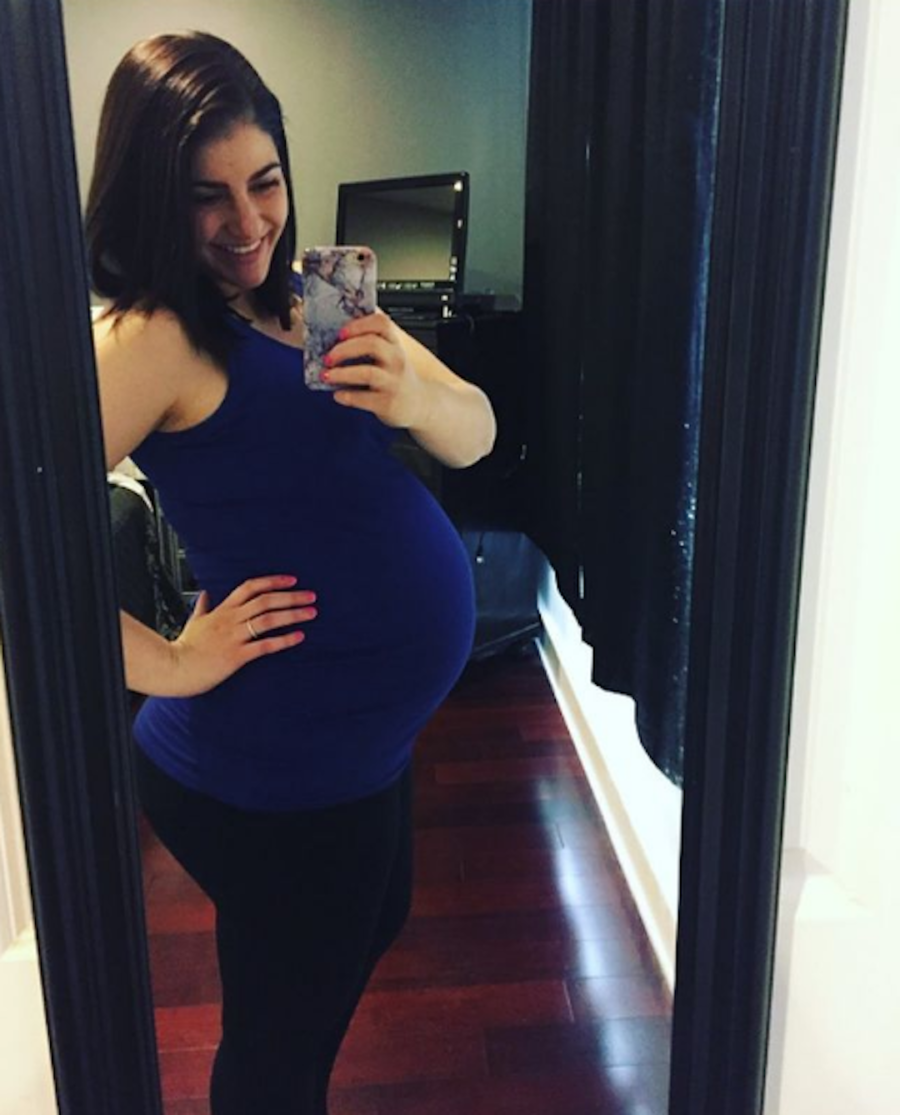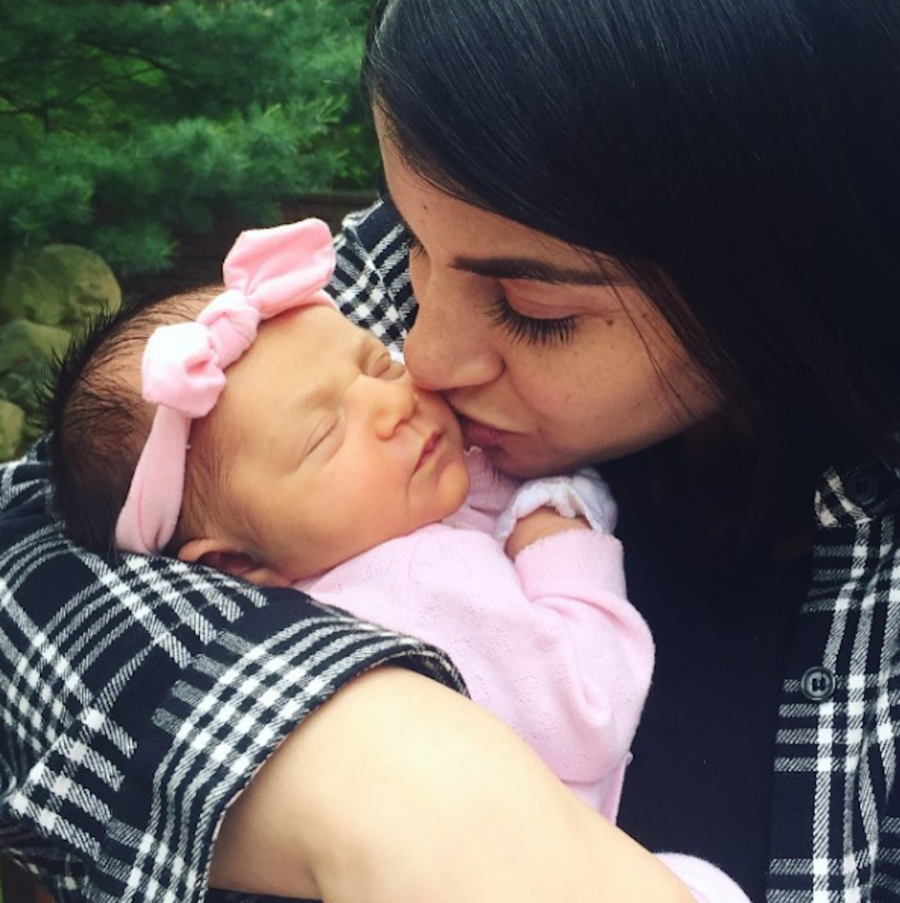 A sibling was next, and that road was a much harder one. We had three frozen embryos leftover from our last round of IVF, giving us three chances to get pregnant with our second child. My first two implantations both resulted in miscarriages, leaving us with just one more embryo. One last chance of Chloe having a direct sibling, same male sperm donor with my egg. Unfortunately, the doctor called me with the bad news – it was a complete fail, I failed. I failed as a wife and a mother. I fell to the ground in hysterics; I could not control my emotions, I was a mess. Chloe ran over to me, not understanding why I was so sad, but knew something was not right, so she gave me a hug and a kiss. I had to be strong for her, she could not see me like that. So, I collected my feelings and thoughts, storing them away for later.
Keri and I thought our journey was over, but we were soon mistaken. The sperm bank had two vials left of the same donor we used for our daughter – Cha-ching! They were purchased on the spot. As mine and Keri's only stipulation for having a second was, Chloe and the baby would share the exact same genes. And so, it began again, two failed IUI's that resulted in a sit-down meeting with our fertility doctor. We were told the only way we would be able to get pregnant was to do IVF again. I had already put my body and mind through so much over the past two years, the news to have to do IVF again seemed so unfair. The drugs, the shots, the emotions while taking care of Chloe was going to be a challenge – but all worth it, right?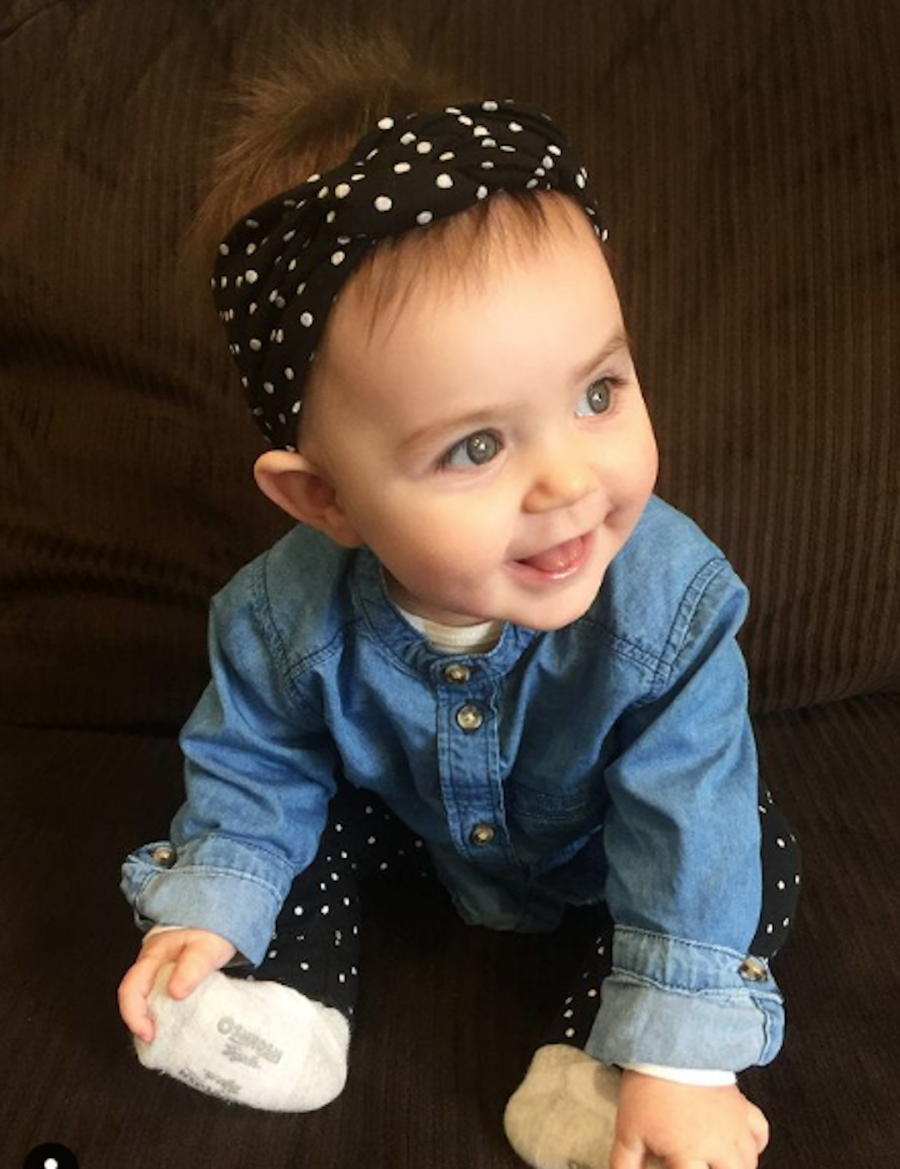 IVF的结果不是我们所期望的:三个胚胎,这不是理想的。医生植入了我体内的胚胎的"最佳外观",而我们等待了其他两个胚胎测试的结果。大约一周后,我们接到电话,说这两个胚胎恢复了叛逃。我的心碎了。怎么可能?这是怎么回事?然后我陷入了螺旋式的……我周围的人似乎怀孕或怀孕了。对其他所有人来说,它似乎很容易出现,而我觉得自己将灵魂卖给了魔鬼,只是为了失望。我很混乱。Keri将我带到她的怀里,提醒我我们已经有了一个完美的女孩和完美的家庭。 She reminded me to be grateful for what we do have. That was just what I needed. In my heart, I felt the journey was over. A few days later the fertility doctor called. I heard the doctor and nurses shouting, 'CONGRATS!' Waittttttt, whatttttt?! Keri and I had ourselves a miracle. The embryo they had implanted without genetic testing actually worked! It was all worth it! Chloe was officially going to become a big sister! Our baby boy was due in March 2020.
Keri,Chloe和我在2019年9月宣布了我们不断增长的家庭的增加。由于IVF,我的怀孕被认为是高风险,因此,对我来说,这只是意味着在Obgyn和Baby Granding Hospital的额外的医生约会。在这个时间点,克洛伊(Chloe)在学龄前,兼职兼职,并在我小女孩时在同一个工作室上舞蹈课。她还和朋友们每周玩耍,是我最伟大的小帮手。我们会一起做所有事情;去杂货店,咖啡约会,在购物中心购物,她会去所有医生的约会。她喜欢在我的肚子里看到她的弟弟的照片,但她也喜欢护士总是给她的棒棒糖。我们有一个很好的例行程序,我们总是很忙。随着她的整个世界将要改变。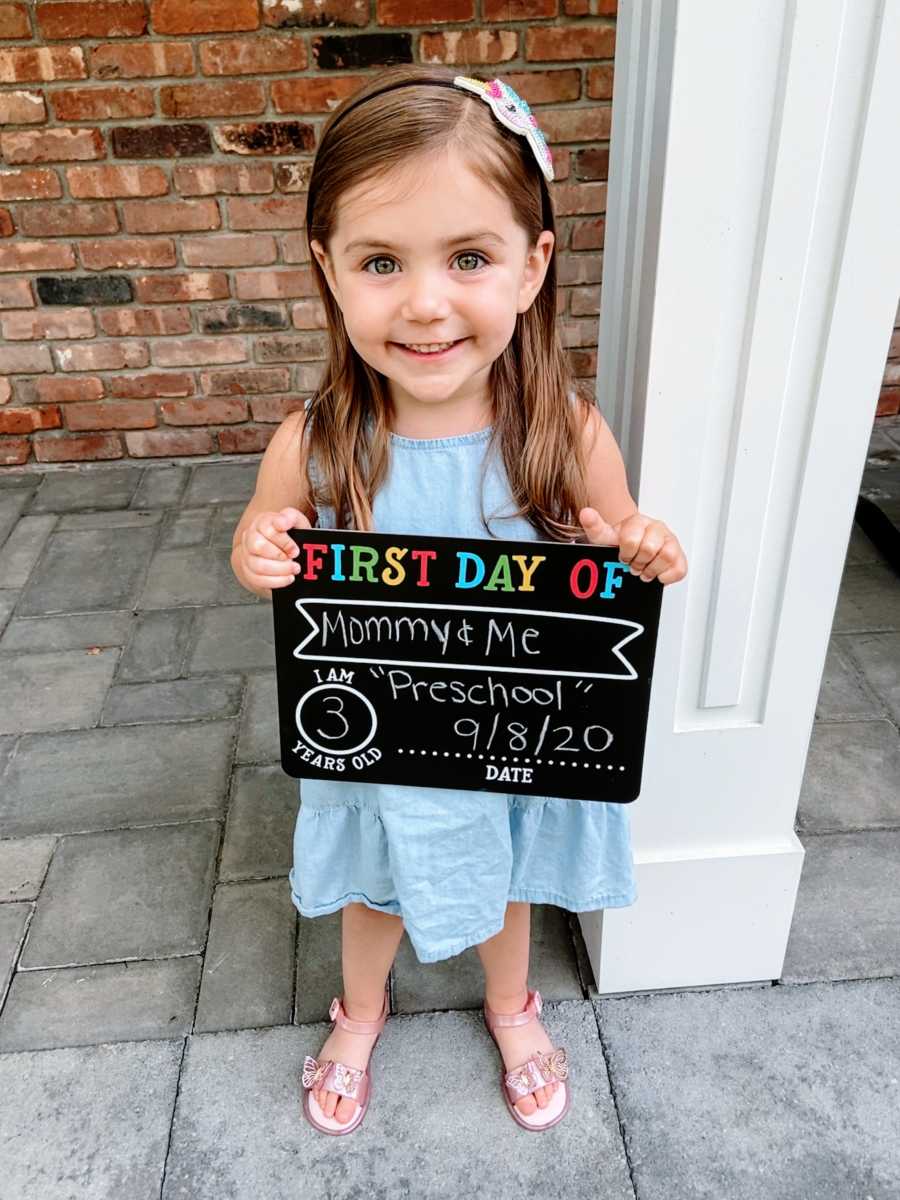 是3月6日。我怀孕了37周,Keri和Keri去医院进行了日常的每两周生长扫描。我们已经把克洛伊(Chloe)放到我父母的家中,使事情变得更轻松,像往常一样吻了她,并告诉她我们会稍微回来。超声技术人员开始扫描我的腹部,拍摄比正常情况更多的照片。我看到Keri给我看一看,但我试图不惊慌。医生走进房间,说:"在楼上检查,今天你要生这个婴儿。"洪水大门开始。我没有哭泣,因为我很难过,我为婴儿到达而感到非常兴奋。我只是没想到这么快。我还没有准备好,我以为我还有更多时间。医院什么都没包装,我们的汽车座椅没有安装,我认为我和我的克洛伊和我还有一些宝贵的时刻。
It turns out the fluid in my amniotic sac was running on empty, and the baby needed to get out as soon as possible. The time was now. We checked in upstairs to the labor and delivery unit. The hospital was eerie with the start of Covid-19 spreading across the US. There was more security and checkpoints than normal, but no rules had really changed except one. No visitors under the age of 18 were allowed in the hospital. Unfortunately, this meant Chloe could not visit us and her new baby brother once he was born. I was being induced, and the pain of that is no joke. It was not happening fast enough, so besides the balloon in my cervix and the IV of Pitocin, I had to lay with a giant physio roll exercise ball between my legs. Comfort was out the window, and the pain began to get too intense. The epidural was now in, but did not seem to be working the way I remembered with my first. The anesthesiologist had to come back and adjust, then I just felt a deep sigh of relief, as the pain had become manageable. It was time to push. Ten minutes later, the last piece to our family's puzzle was here, our handsome boy Dylan. It was now time to go home, back to our normal everyday life.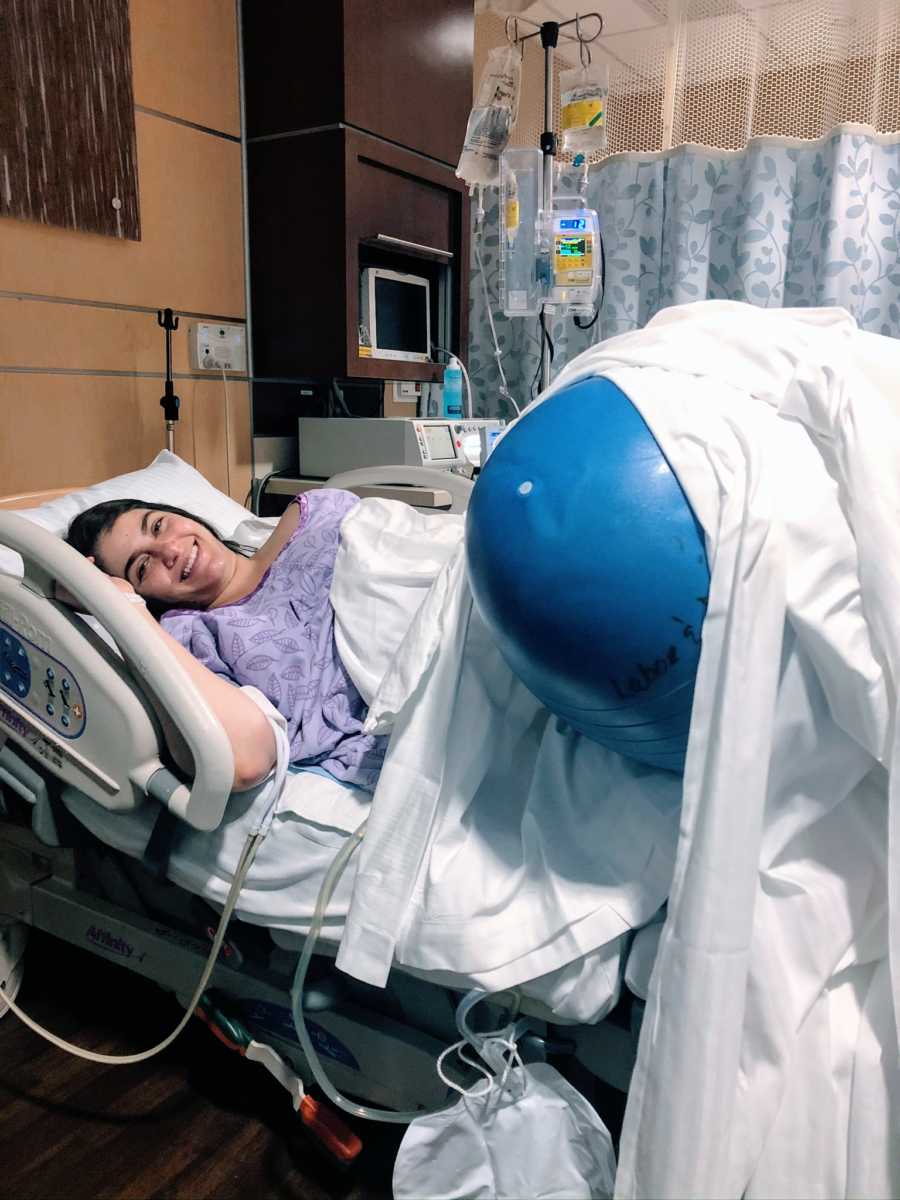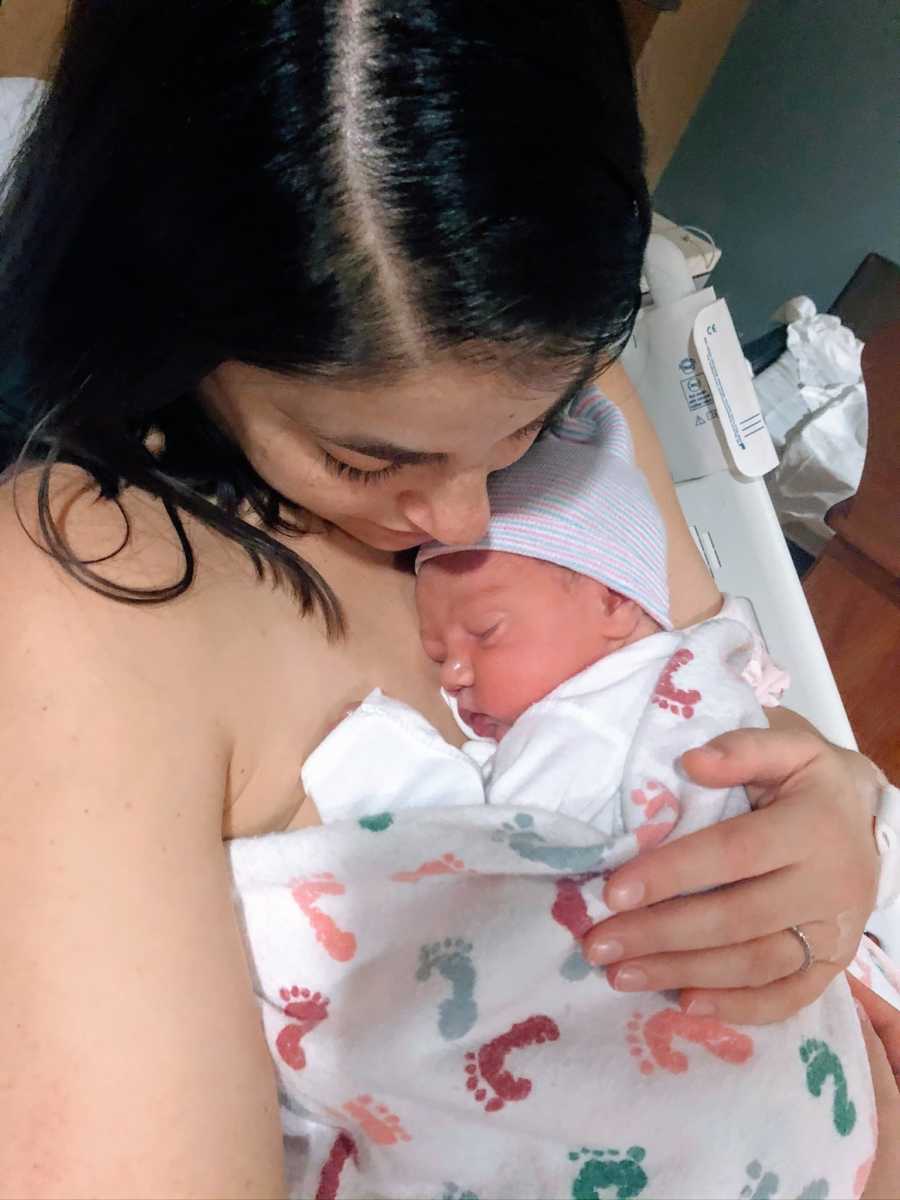 Then about two weeks after Dylan was born, Covid-19隔离started…
这是这个国家历史上的非凡时期。这将在历史书籍中成为真正的危机,混乱和混乱的时刻之一。- 3月17日州长库莫(Cuomo)
我们正式锁定,局限于我们的房子。家人和朋友没有达到我们最新的补充,并适应这种新的生活方式是一场真正的挣扎,尤其是产后。正常不再是一件事情。现在,社交距离和面具是一回事。作为父母,我们决定将克洛伊从她的所有活动中汲取灵感。学校,舞蹈,基本上一切。迪伦是一个newborn并没有一个确定的免疫系统m, and all the unknowns of the rapid spreading virus, we did not want to take any chances. A close friend of mine, whose daughter is Chloe's best friend, told me about a Mommy and Me Preschool program she was doing. You buy the program online and can teach your child in the comfort of your own home. I was sold, especially knowing we would have each other to lean on if and when needed. It felt like the right and the safest choice for our family during these times.
I had to make the best of this new situation for our daughter, so I transformed our dining room into a preschool classroom. I wanted Chloe to get excited about her new learning space, which includes a kid's table/desk, an easel, wall-to-wall educational posters, a craft/supply cart, yoga mat, and wall space to hang all her school projects. She felt so special, another room in the house just for her. I felt her having this separate learning space would help her focus as well.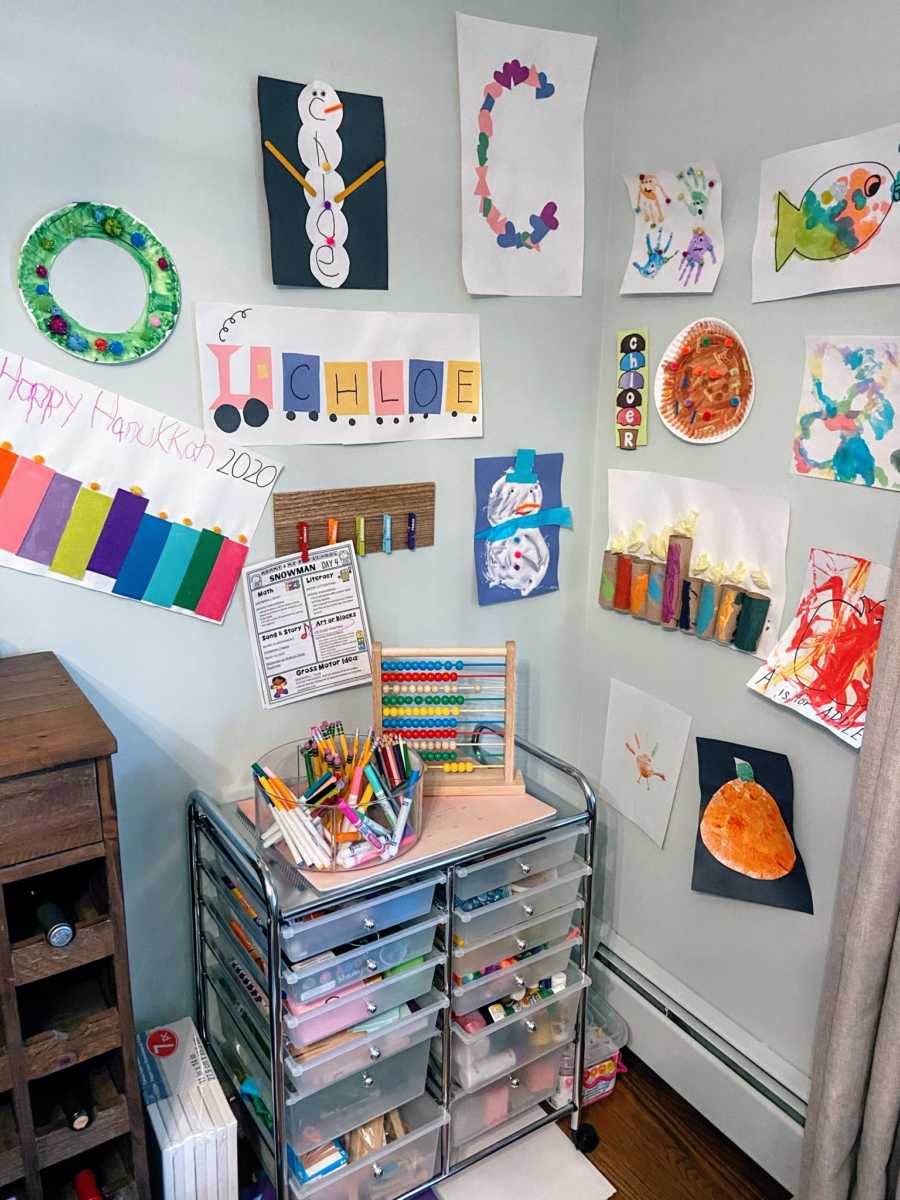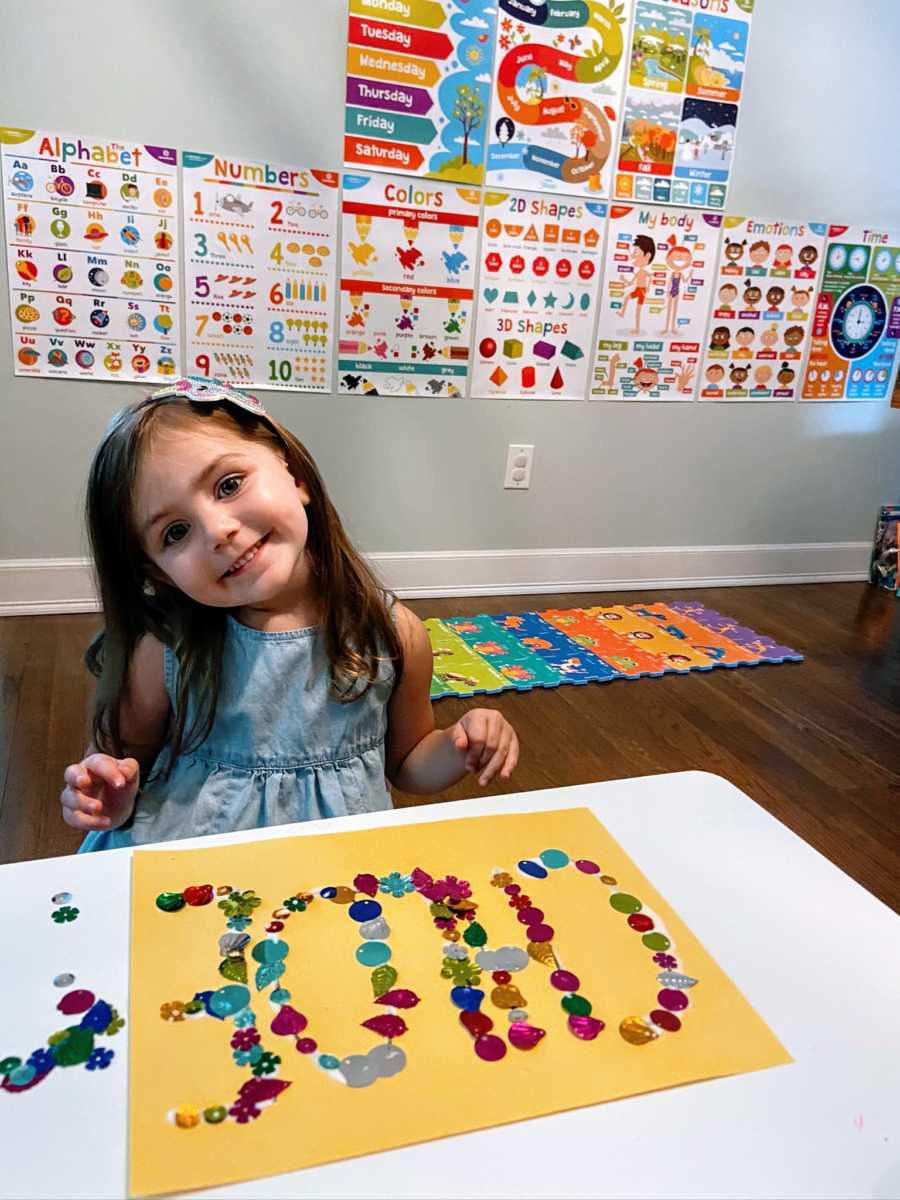 学校现在是会话,更多吧k than I ever imagined. The homeschooling program has weekly themes (i.e.: fall, pumpkins, shapes, community helpers) and the program is 40 weeks long. Each day of the week has a different syllabus. Math, literacy, and art are included every day, as well as a song and book of the day. Throughout the week there are other lessons like dramatic play, cooking, sensory, science experiments, and gross motor skills. Supplies are not included in the program, but they give you a list of weekly supplies to buy. I tried to save time and purchased everything for the whole year in advance.
节约时间?时间?那是什么?这就是问题,在白天在杂耍婴儿时教我女儿的时间。迪伦(Dylan)是一个讨厌睡眠的婴儿,总是需要举行,拒绝瓶子和奶嘴。因此,我一直在抱着他。有几天,我试图在Chloe尖叫时在我的手臂上摇动迪伦时,或者几天,我会在一只手臂上哺育他,同时与另一只教Chloe。有些日子,我会躺下小睡,抓住克洛伊,只是为了完成15分钟的教学,然后才哭泣。这是一场斗争。我在精神上和身体上都精疲力尽。 Days were long, but so were the nights as Dylan was still waking up four times a night. I wanted to give up, it was too much, but I knew I couldn't. My daughter was giving her best, so I had to also.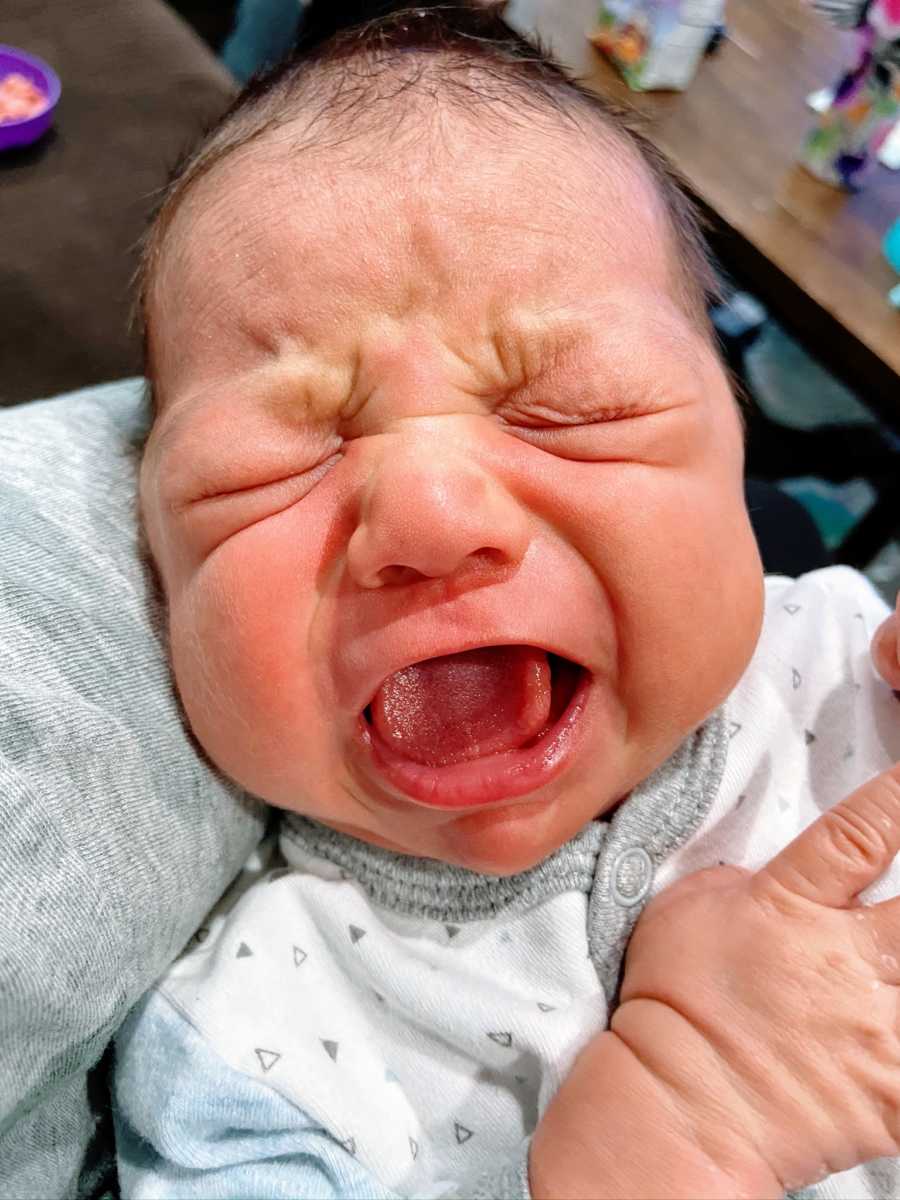 我调整了例程。孩子们上床睡觉后的每个星期日,我都花了2-3个小时准备即将到来的一周,而不是夜间准备。每月,我也像假期或季节一样在真正的学校里像在真正的学校一样装饰教室。六个月后,迪伦(Dylan)将食物添加到饮食中后,就开始更好地小睡。前进的计划是每个星期一至周五的午睡期间,克洛伊(Chloe)和我会做我们的在家上学。如果午睡没有发生,迪伦(Dylan)加入我们的家庭学校 - 他可能会有点镇定,但他当然不安静。那些日子,我们只是尽力而为。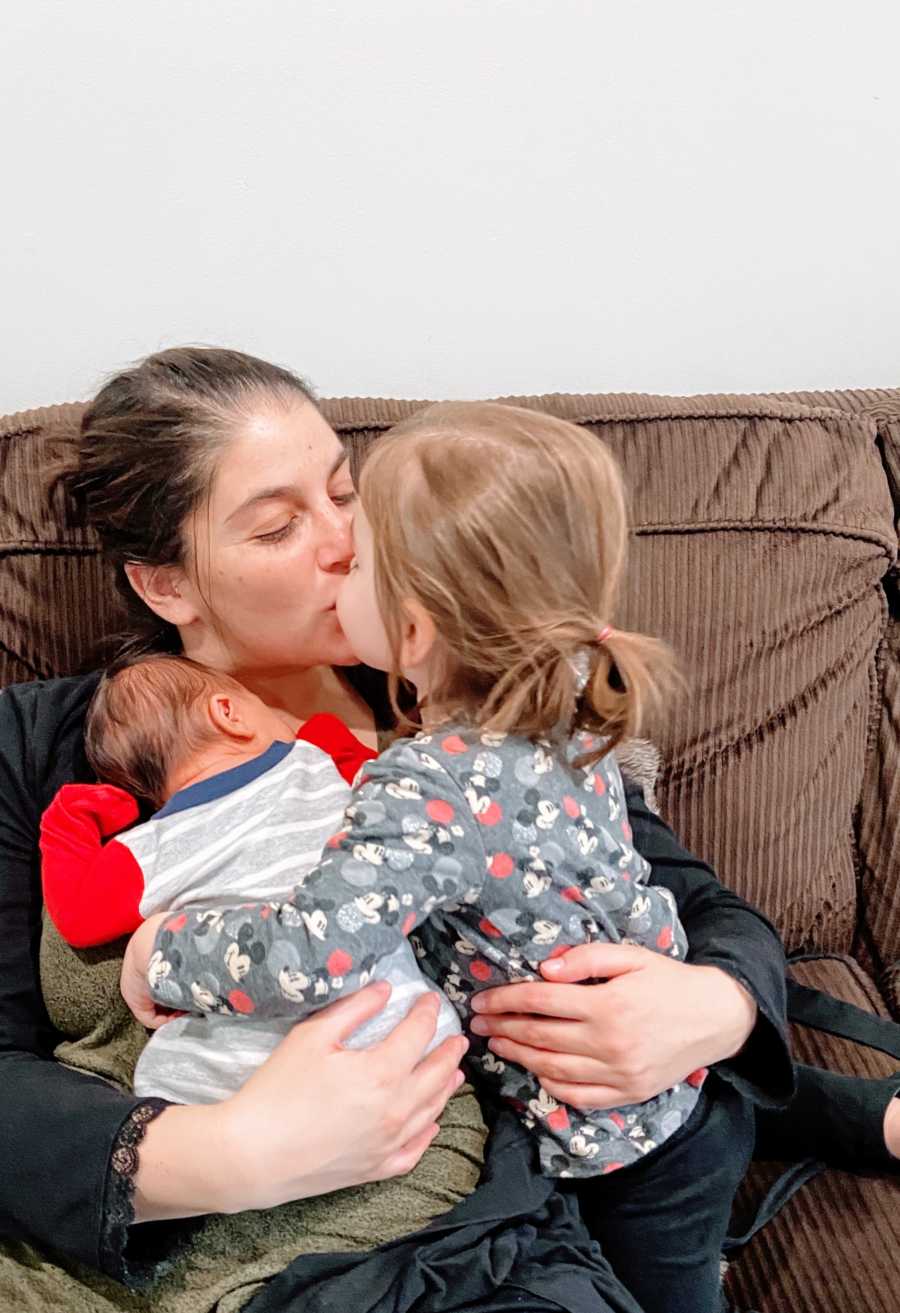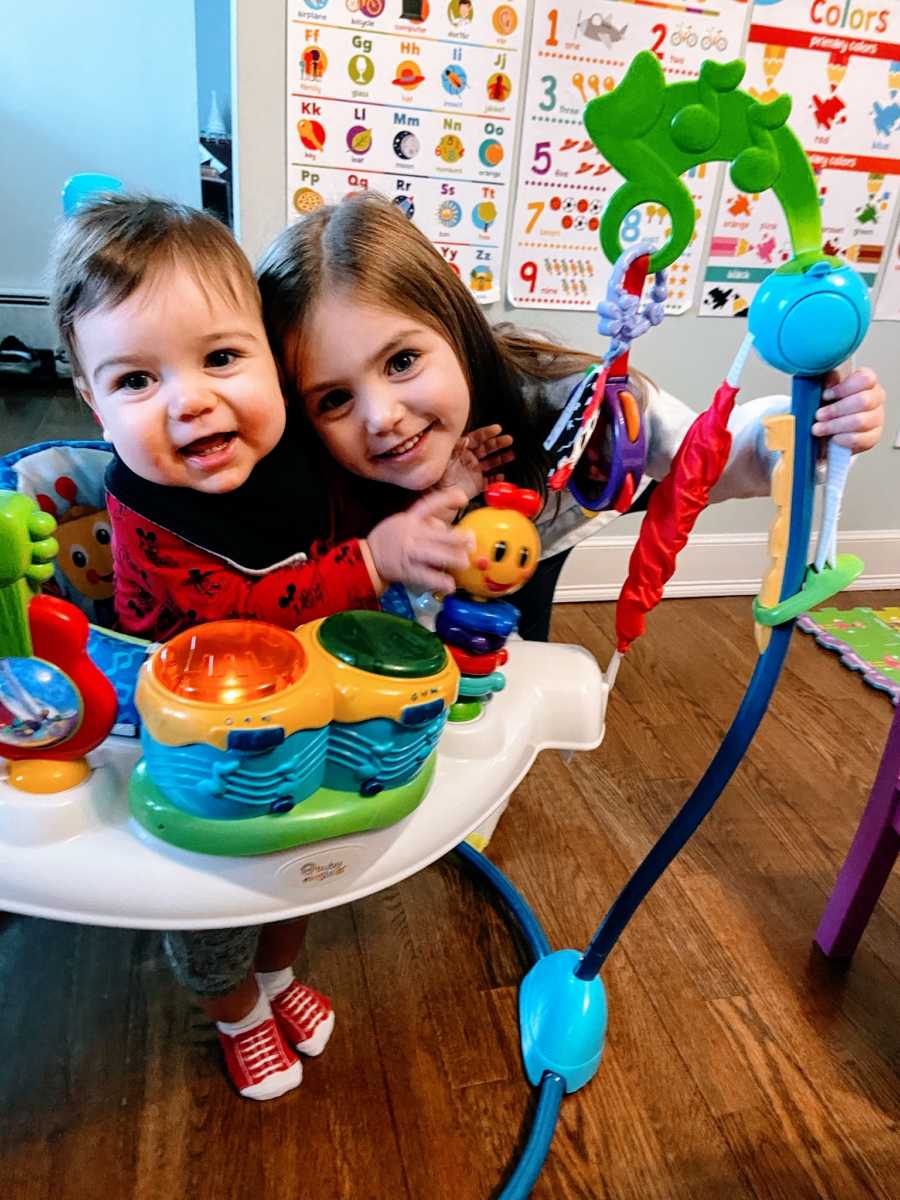 Some days are still rougher than others. Chloe will ask about her old school, she vividly remembers the blue door in which she entered. She asks of her old teachers and the playground. Mostly she asks where her friends are and will mention their names. She has even asked if her friends love her anymore because she does not see them. There are times in which Chloe wants nothing to do with me being her teacher, she will keep hugging me saying mommy, and just wants to play with me or cuddle with me. Chloe will also run out of the classroom into another room in the house to get away if she gets frustrated, gets an answer wrong, or is having a bad day. Sometimes I can't even handle the situation. Sometimes I get frustrated. Sometimes I want to cry from feeling overwhelmed. And sometimes I wonder if we made the right decision as parents to keep her home.
I do not think I will ever be able to answer that question. Some nights it haunts me, but what I do know is Chloe is extremely bright, and her knowledge is exceeding a typical three-year old's. Also, when Chloe uses her knowledge taught in homeschool, she makes me super proud because I know I am the one who taught it to her. Most importantly, when I tuck Chloe in bed at night and she says she never wants me to leave and she loves me so much, I know I have done something right. I will never get these days back, and as crazy, exhausting, challenging, and emotional as they might be, they are all worth it."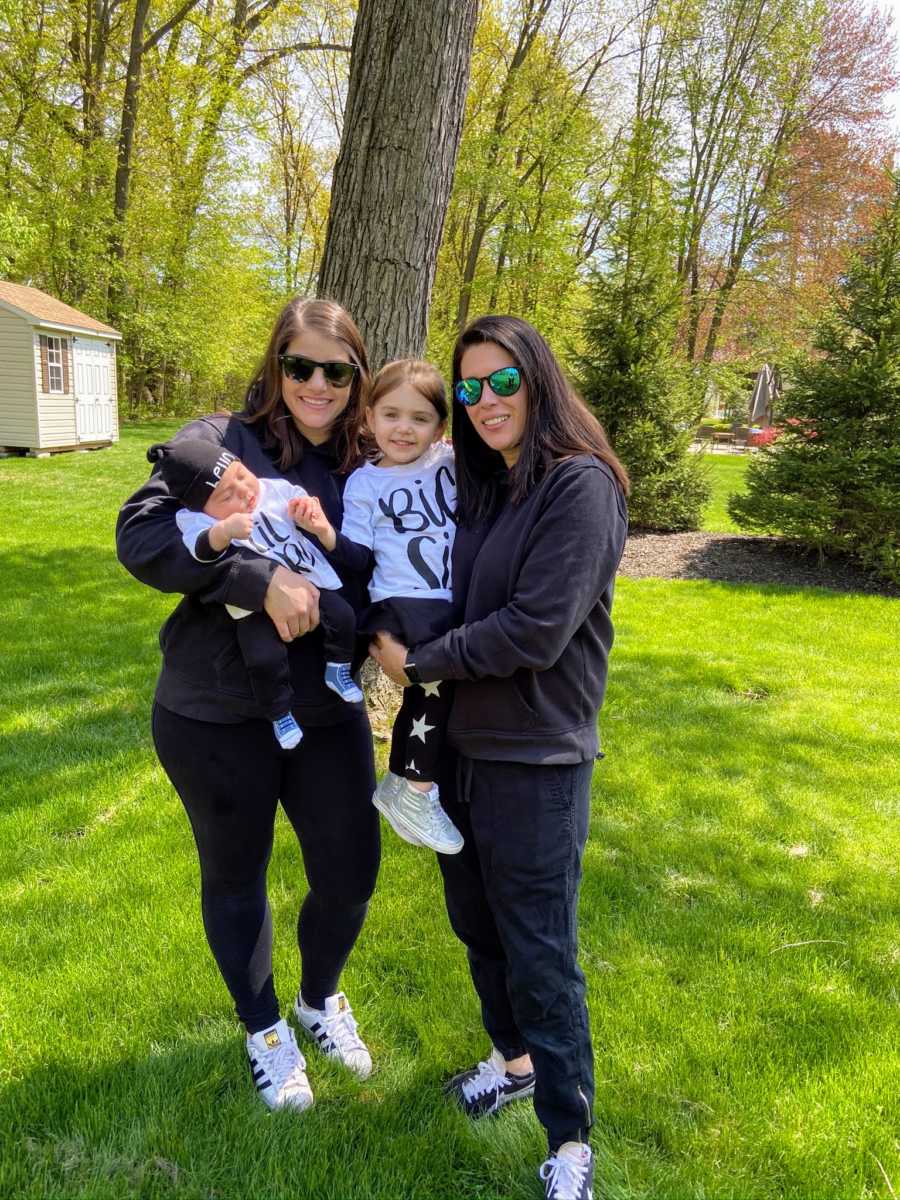 This story was submitted tobeplay网络一直不畅纽约的珍娜·罗伯塔尔(Jenna Robitaille)。您可以在Instagram上关注他们的旅程hereandhere。你有类似的经历吗?我们想听听您的重要旅程。提交自己的故事here.务必subscribe向我们的免费电子邮件通讯,以获取我们的最佳故事,以及YouTubefor our best videos.
阅读更多这样的故事:
'这不是家庭学校。这是您被扔进了您没有选择的游泳池的深处,没有时间进行计划。":家庭学校妈妈敦促"请给自己巨大的休息"
'我没有做任何家庭学校。今天,我们什么都不会做。我们不会去任何地方,我会让他们在吃卡夫晚餐时看电视。
'Make sure your kids have a schedule. But let them be kids. Homeschool. You don't need to homeschool. Teach them life lessons instead. And common core.': Woman candidly shares reality of mixed messages during pandemic
'Homeschool isn't crayons displayed in cute pails, three-tiered cubbies, or $100 globes.': Mom's open letter to new homeschool parents is a sigh of relief
您知道一个可以从阅读本文中受益的人吗?SHARE这个故事与家人和朋友在Facebook上。