"My husband, Clay, and I met in college at the University of Central Florida. I was seventeen and he was nineteen. Babies, actual babies. I was so excited to start college. I knew from a young age I wanted to be a pediatric nurse. I had actually never really dated in high school, mostly because I had a super close knit friend group and boys seemed like a colossal waste of time. Clay definitely didn't hold that view and had lots of girlfriends.
When Clay and I met, we were just really good friends for the first year and a half. I actually scared him a little bit because he knew I didn't really want to date just to date. If I was actually going to invest my time in a relationship, I wanted it to be THE relationship. Poor guy! In that year and a half, we grew to be best friends and this has proven to be invaluable to our marriage. To this day, if we could pick anyone to hang out with it would be each other. I think friendship first in marriage is key. Do you actually like the person you are going to spend the rest of your life with?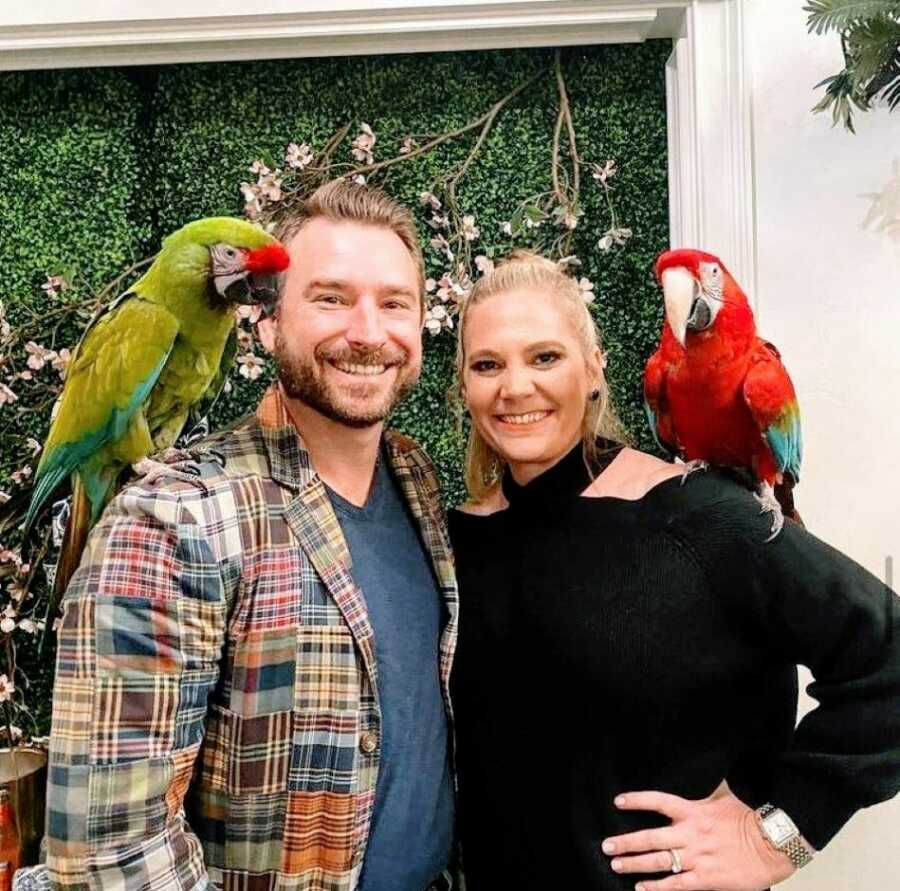 I had been homeschooled from third to twelfth grade. I was one of five kids. Three of my four siblings have varying special needs. Growing up, their diagnoses were seemingly unrelated, but nonetheless made my family life very different than anyone else's around me. What it did teach me was just because someone may look different, learn different, or act different didn't mean they should be treated or loved differently. I also learned just because something may be difficult or hard isn't actually a reason not do something.
我一直都知道的三件事 - 我想要一个大家庭,我想收养,我想成为一名儿科护士。不确定为什么我想要这些东西,但是它们只是我的一部分,我知道它们将永远是我故事的一部分。当我遇到粘土时,我告诉了他所有这些事情。克莱是最好的,因为他总是努力做任何事情,即使他实际上不知道自己在注册什么。他只有一个哥哥。他从来没有真正抱着婴儿,更不用说换尿布了,但是他全都在里面。
粘土和我在2003年结婚。我20岁的时候(I couldn't even drink on our honeymoon) and he was 22. I had one year left of nursing school and he was working as a waiter at a fine dining restaurant. We spent the next three years finishing school, working, travelling, getting to know each other, and loving life. In 2006, I found out I was pregnant. I ended up miscarrying the baby at 13 weeks, on my birthday. I was devastated. We tried for the next entire year to get pregnant again to no avail. This was devastating for me. To feel all your life you were meant to be and do something, be a mom, and to seemingly not be able to do this was crushing.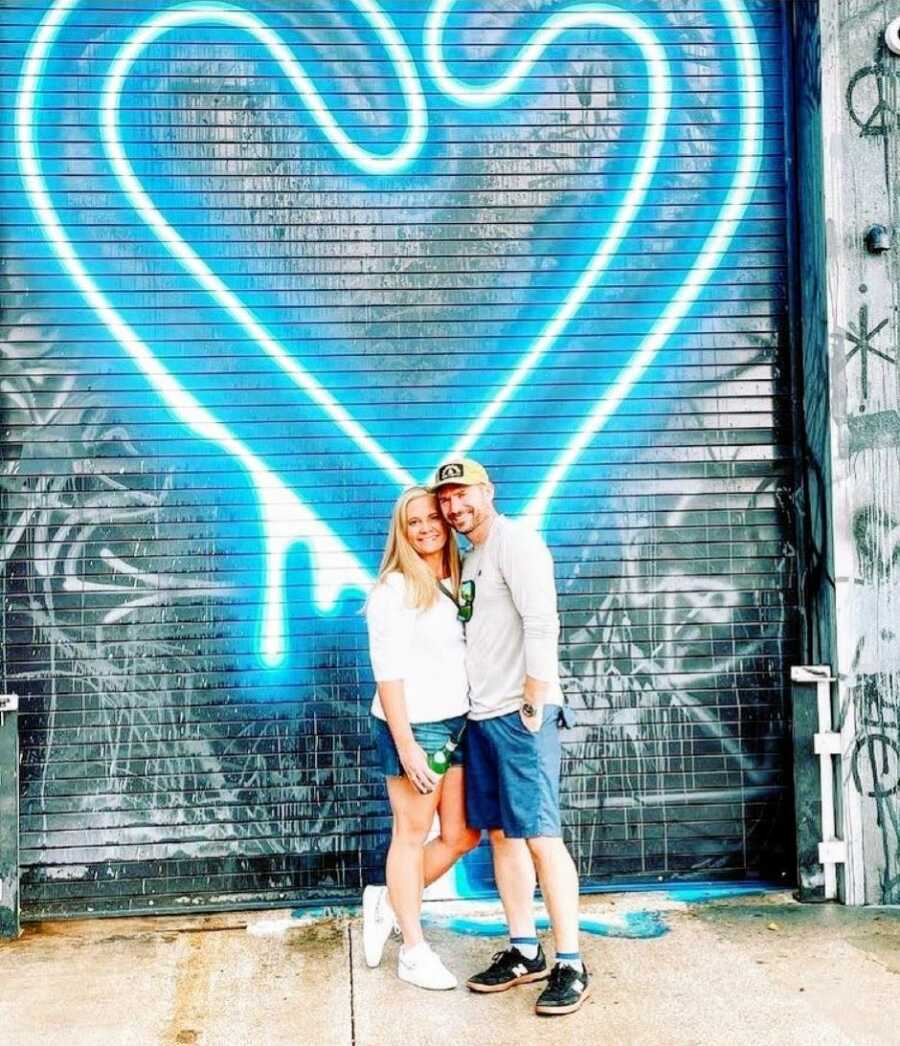 During this year, we decided maybe our inability to get pregnant was God's way of showing us we needed to foster before we had biological children. We took the classes, went through the lengthy licensing process, and had 2 placements. It was the hardest year of our marriage. I finally got pregnant again and miscarried at 5 weeks. Again, we were devastated. A mere 6 weeks later, I was pregnant again. This time, I stayed pregnant. Nine months later, after an emergency C-section I was holding my firstbaby boy. A dream fulfilled.
Five weeks later I had to have my gallbladder emergently removed. We decided to let our foster care license lapse because I had had two major surgeries in 6 weeks, had to care for a newborn baby and both of us had to get back to work. Adulting is no joke. I worked night shift at a local pediatric hospital, Clay was a youth pastor and high school teacher working days. We were getting no sleep and we were broke as a joke but so happy.
我在我在医院工作的一个可爱的朋友,他是寄养妈妈,知道我们有一颗心adoptioneven though we could have biological children. She had a little boy in her care she knew was going to need placement. On paper his prognosis looked poor. For whatever reason, she called me one Tuesday afternoon and said, 'Hey Megan, I was wondering if you wanted to adopt a baby?' How do you even respond? I told her I would need to talk to Clay and I would call her back. I walked out to the front yard where Clay was sitting in the hammock with Cole, who was 9 months old, and said, 'Hey, so, Suzanne just called. Um. She wanted to know if we wanted to adopt a baby. He's 9 months old and is going to go up for adoption.' Without hesitation, Clay said, 'Sure! When can we meet him?' And that is my husband defined.
Like I said, on paper, his birth mother made some poor life choices while pregnant with him. But Clay and I knew a few things: We knew we wanted to adopt. We knew based on my family history kids with special needs would more than likely be part of our story whether biologically or adopted. We knew getting phone calls to just 'adopt a baby' are very rare (or so we thought). We've learned to walk through the doors God opens until he closes them, even if they seem a little crazy to the outside world. So, we met Cooper, loved him instantly, and six months later stood in front of a judge vowing to be his parents forever…holding his big brother, by 25 days, and four months pregnant with his little sister.
库珀和我们放置的时候,他背后的产品开发lopmentally. I think it was a mix of God's grace, his big brother Cole, young dumb parents who just pushed forward and my pediatric nursing experience, but within six months Cooper hit every benchmark, surpassed them, and was released from all therapies. Since then he has not suffered from any side effects of his traumatic start. I don't say this lightly or to presume this would happen to others. Birth trauma, drug use while pregnant – these side effects on babies that lead into adulthood are significant. For some reason, part of Cooper's story, and our families, is he is a walking miracle. One we are so grateful for and one of the earliest lessons in our marriage of the great reward that comes with saying yes when it just doesn't seem to make sense to anyone else. But saying yes when it just doesn't make sense could change the world for one human being.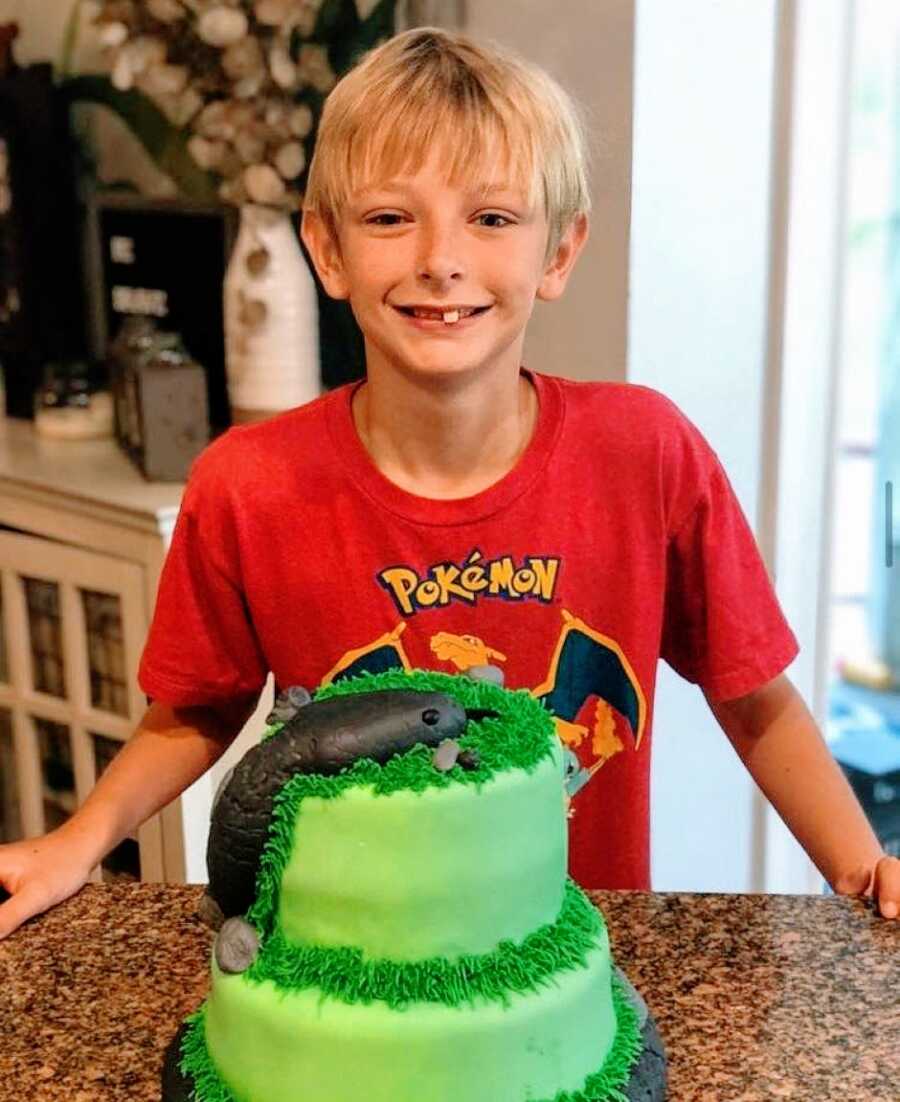 三个孩子以下的三个孩子和两个父母之间的四个工作并不是为了胆小。哦,年轻而愚蠢,充满活力,你甚至都不知道自己!After a year of this nonsense, Clay's dad, who owns a small business in St. Augustine, offered for us to leave full time ministry, move two hours north, and take over the family business, which would allow me to stay home with the kids. After a lot of talking and praying, we decided we felt we could be more effective in changing this world with the children we could raise than the vocational ministry we were in. We knew we wanted a large family, but we knew we couldn't do it on the income we were living on, so we packed up and moved two hours north. It was one of the best decisions we could have made.
We had two more babies over the next four years. This put us at five babies in eight years. I do think some people confuse the idea that happiness is synonymous with ease. In our case this couldn't be farther from the truth. We seem to thrive on a challenge, for no other reason it's just how we are wired. We chose to homeschool our brood for a plethora of reasons, but one of which is the freedom to travel and learn in a more hands on way. Even with five kids, we got all the questions. 'Are you Mormon?' 'Are you Catholic?' 'Do you have a TV?' My favorite, and the one I have retorted back to a few times, much to the shock of the commenter is, 'You know how that happens right?' To which I respond, 'Sure do! And clearly I'm super good at it!' While I try to have grace for people and just let them be, I would admonish people to think before they speak. All of our kids know their stories and know who is adopted.
What's funny is when the boys were babies they looked so much alike everyone thought they were twins. Everyone would ask. I would respond with, 'One is adopted and one is biological, but no, they aren't twins.' As they got older and we had more kids, we'd say this and people couldn't just leave it. They wanted to know who the 'adopted one' was. In our house, adoption is so special and honored, all of our kids would yell, 'Me! Me!" Then the people would be so confused. All our biological kids wanted to be the adopted ones because, they recognized it made them special in some way. But when people ask questions like, 'Are they all from one dad?' or 'Are they all yours?' or 'Oh! So those are your real kids and he's the adopted one?' Those questions can be hurtful. It doesn't matter how those kids are in my care. Those kids are my kids and for someone to question their place, intentionally or not, is not okay. How you ask a question, if you really need to ask, is important.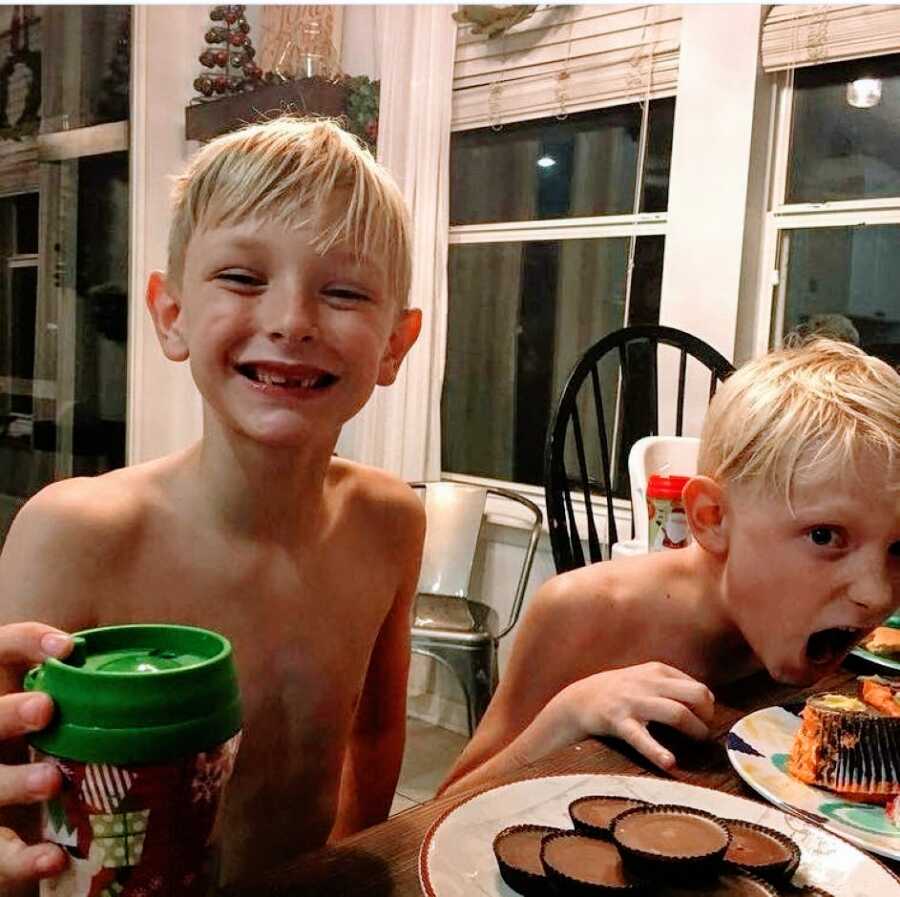 We also becamefoster parentsduring this time, but because we had five children we 'sized out' of the system. At this point in our lives we felt like we were called to a big family. I always felt like I wanted a mixed race family, even as a young child. I grew up with friends who had foster brothers and sisters who were many different races. I didn't really know or care what race, I just knew somehow I would have children who wouldn't look like me.
We didn't feel called to a private adoption and we didn't feel like we wanted anymore biological children, so we thought maybe those 'feelings' growing up were just that; dreams that wouldn't be. Clay and I decided to get involved in different organizations in our community, make a difference WHERE we were plugged in. So we got to work in our home and in our community. When our youngest was four, we ended up getting pregnant completely on accident (I know people say this and I used to roll my eyes because, I'm sorry, did you just fall on someone? But like, for real, OOPS!) I had a very hard and painful miscarriage on Christmas Eve with this baby. Even though we thought we were done having children, after much prayer we decided maybe this was God's way of telling us our brood needed one more. Little did we know…
It took us a few months to get pregnant. We did get pregnant and then, at five weeks pregnant, we got another phone call asking if we'd be willing to meet a birth mother who was considering placing her son for adoption. One of the organizations we volunteered with, who helps young mothers get back on their feet, was trying to figure out what family would be a good fit for this situation. As they were talking, one of our friends thought of us and said, 'Oh! Clay and Megan will adopt babies even though they already have a lot of kids!' I felt like I was living déjà vu, but with four extra children.
Clay and I talked and prayed about it and decided to meet this birth mother. Again, just walk through the doors God opens until He closes them, even if it doesn't make sense in the world's eyes. As I was driving to the meeting, I did get a call from the director of the organization and she said this birth mother had said she only wanted to place with a family that had no children or maybe one, but she'd meet with us since we were already on the way. I figured, 'Okay! God has shut the door, but this will be a great experience because I've never really met a birth mother.'
经过两个小时的会议Panera, birth mother felt like we were the right placement for her son. He was eight months old. We ended up keeping our son for a week and then his birth mother decided she wasn't ready to make the decision. While this was hard for everyone, we totally understood. The more we have lived in the space of adoption, the more we have realized while it is everything beautiful, it is also heartbreaking. No matter if an adoption occurs in the best of circumstances, it is a trauma. But it is beautiful because of the fact that, though it may not be how it was meant to be, love is love and every child deserves to be loved by whoever is meant to be their parent. After a few months of building a relationship with our son'sbirth mother,她认为我们的家人是永久与我们在一起的最适合我们的人。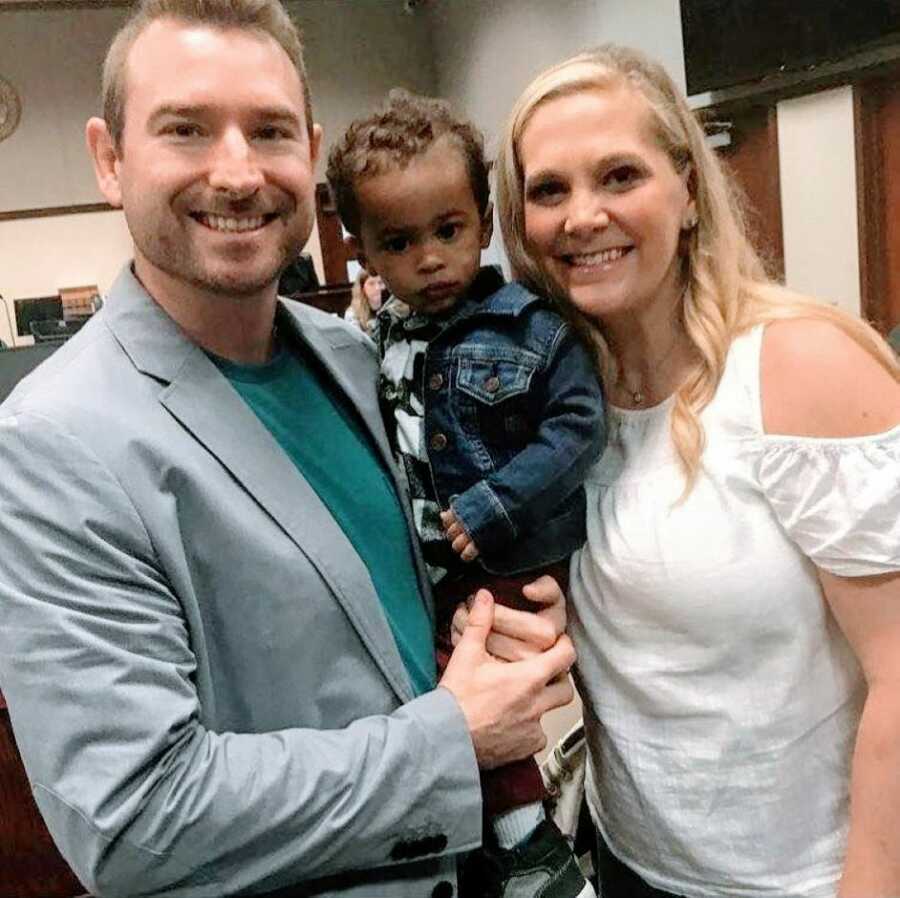 我怀孕了四个月,但是我们的第六个孩子将成为我们的第七个孩子。混乱不是吗?我会说,要从他的生母亲那里捡起我的儿子,他意识到自己的生活选择了不同的道路,因此为她的生活选择了不同的道路,以便为他们俩创造更好的生活,这是最多的。我一生中快乐而心碎的日子。我正在捡起我的儿子,这是我内心的字面意思。就像我出生的孩子一样,我看着他,知道他本来是我的孩子。我会为他而死。但是我把他带出了他哭泣的亲生母亲的怀抱。就像我说的。无论情况如何,我儿子的亲生母亲都为他选择了这一生,选择了他的家人,看着他成长,但仍然感到应该失去本应发生的事情。 Adoption is a beautiful ache.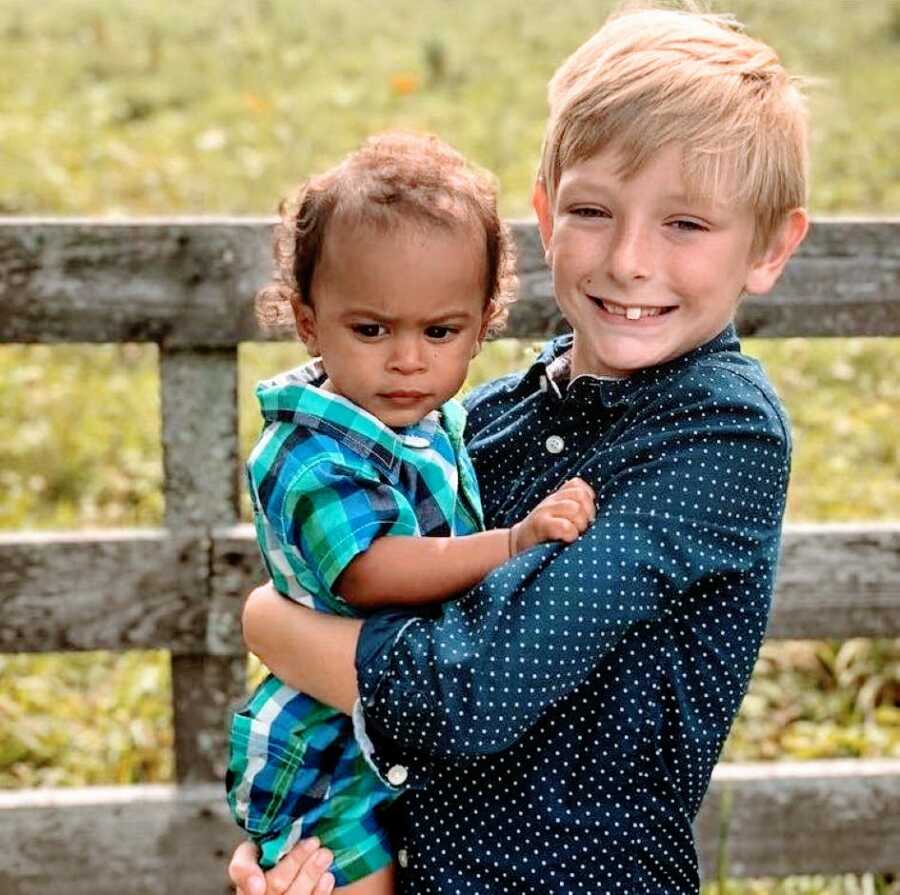 Five months later, I birthed our seventh baby. Six weeks later we stood before a judge and vowed to raise another son for the rest of our life. My favorite part of adoption proceedings is when you stand in front of the judge and he says something to the effect of, 'Do you vow to raise, care for and provide for this child under penalty of law?' Once this child becomes legally adopted, under the law, their is no difference between your adopted children and your biological children. That's how it is in our house. Our kids are our kids are our kids. There are a lot of them. We love every last bit of every last one of them. We work really hard at letting each of them be exactly who they are.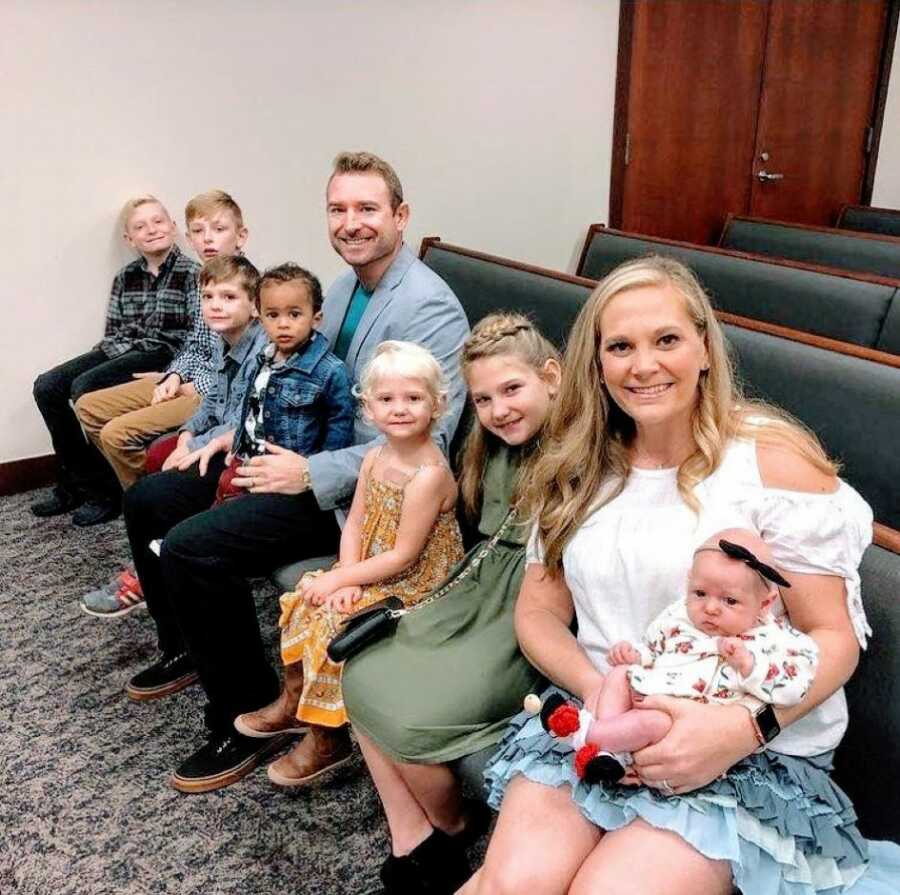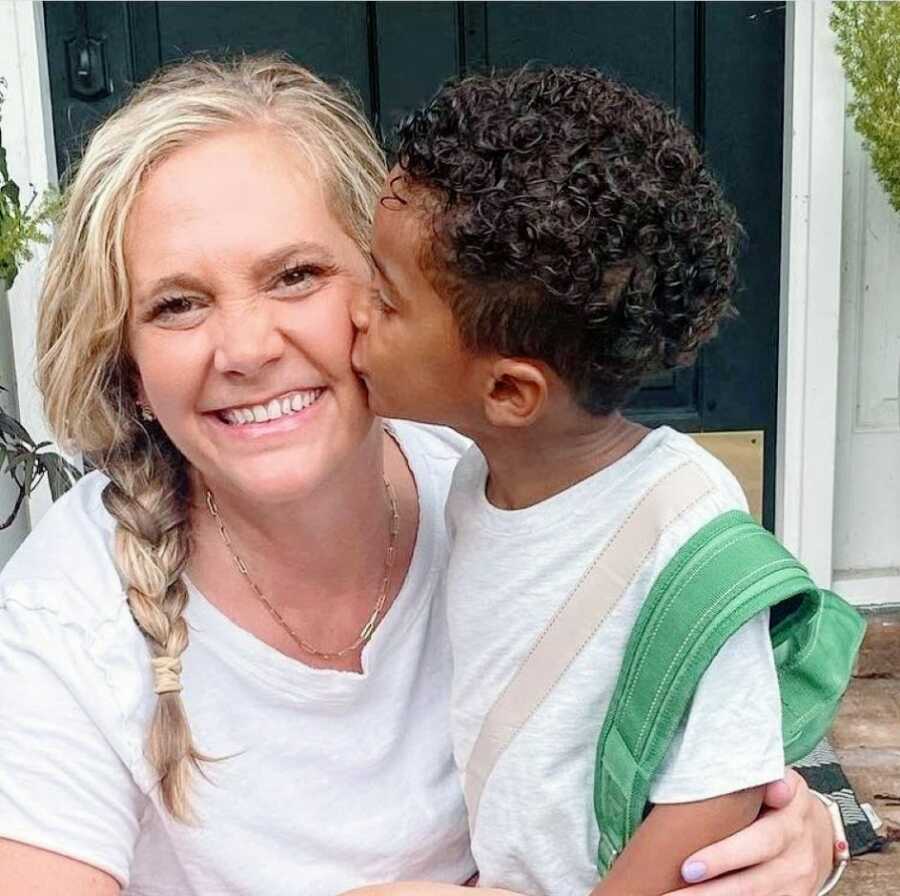 One thing that is really important to us is experiences over things. Even though we have a lot of kids, we feel like it is very important, as much as we are able, to travel with them, do things with them and experience life with them. It's not the easiest thing, but we've established it's not really how we roll. Our kids know in order to live this kind of life we all need to work together, but luckily, so far, everyone is best buds and the big kids look out for the little kids and we all work as a team. We definitely get all the stares, all the gawking, all the wide open mouth looks. We often get people actually using their pointer finger to count how many kids we have. If it were anything other than a big family, I'm sure people would get wildly offended at how people react to our large family, but at this point we are pretty used to it and just roll with it. Having a large family isn't for everyone. Adoption isn't for everyone, but for our family it's perfect."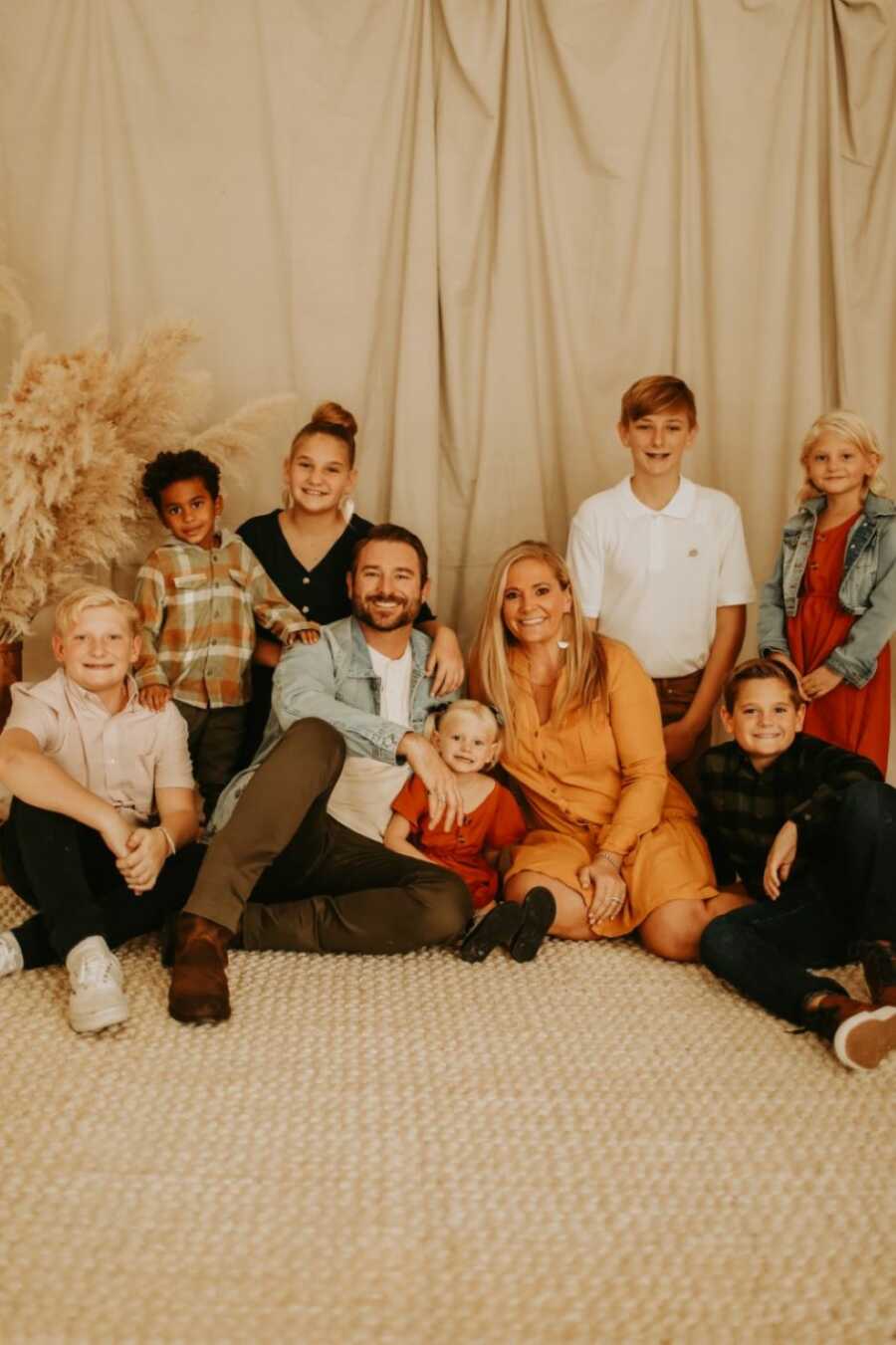 This story was submitted tobeplay网络一直不畅by Megan Nettles of St. Augustine, FL. You can follow her journey onInstagram和她blog. You can follow her husband's journey onInstagram. Submit your own story这里and be sure tosubscribe我们的免费电子邮件通讯,以获取我们的最佳故事。

Read more stories like this here:
'How could I have been so selfish for getting pregnant?' At 18, there was someone growing inside of me.': Teen birth mom shares emotional adoption plan, 'I knew they'd never go a day without being loved'
'The adoption lawyer said, 'See you in a couple years!' We both said, 'No!! This is it!' Our family of 6 was complete, or so we thought.': Couple adopt daughter's sister from foster care, 'She is the piece we didn't know we were missing'
"她出生的父母改变了他们的想法。的电话ripped us apart. 'She's coming to pick her up.': Woman shares journey with infertility, adoption, foster care, urges 'you will make it to the other side'
'她的眼泪说,'告诉她我爱她。告诉她我没有因为我不想要她而没有给她。
您知道有人可以从这个故事中受益吗?请SHARE在Facebook或Twitter上。